World Ocean Day: our subsidiaries get involved
At Soletanche Bachy, we know all about marine works! Our teams have been carrying out projects at sea for many years, continually enriching the Group's maritime and port expertise, now brought together under the ForSHORE brand. This know-how is also reflected in the ability of our subsidiaries, particularly those specializing in marine works, to preserve the oceans and limit our impact on natural marine environments during our projects. On this World Ocean Day, discover some of these initiatives!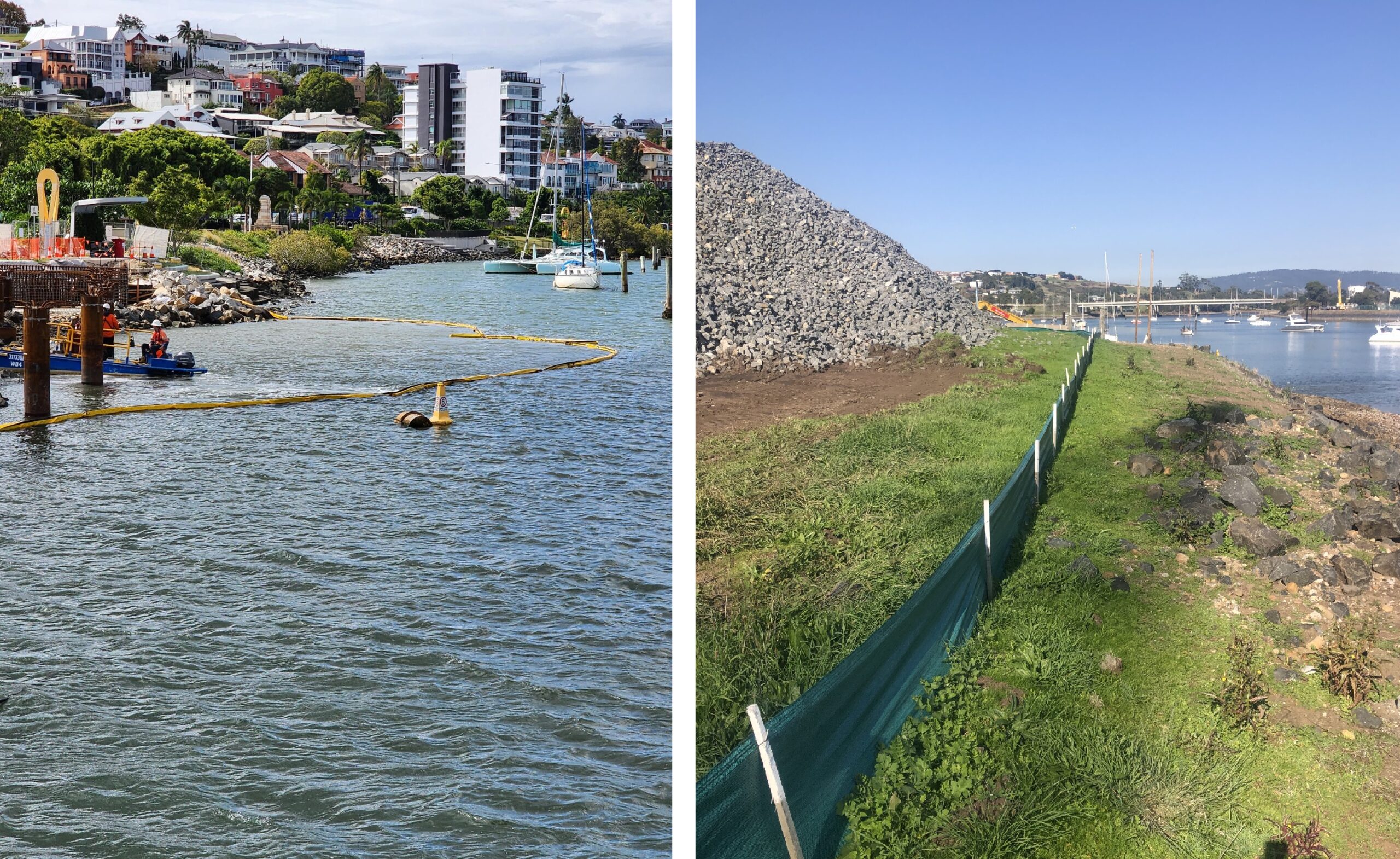 Brady Marine & Civil – Breakfast Creek project (Brisbane, Australia)
Based in Australia, Brady Marine & Civil Pty Ltd (BMC) specializes in the design, manufacture and construction of jetties, piers, offshore pipelines, water bridges and other marine structures. It joined Soletanche Bachy in 2021.
On the Breakfast Creek project, teams developed a system of floating containment booms to prevent the spread of potential spills of fuel, oil, floating waste, debris and even turbidity.
In addition, BMC regularly sets up booms on land to prevent materials from falling into bodies of water.
BMC has other strong environmental initiatives in place:
it has its own environmental roadmap aligned with the Australian government's decarbonization policies,
it participates in the Net Zero Entrepreneurship Program,
collaborates with 5 universities on sustainability initiatives,
it has developed the Green Book with clear environmental objectives and has won several categories of the Civil Contractors Federation of Western Australia's Earth Award. https://ccfwa.com.au/EarthAwards.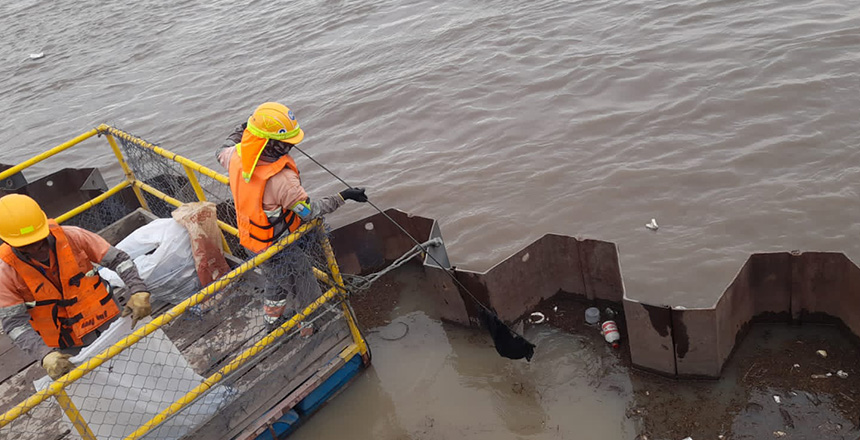 Soletanche Bachy Colombia – "Muelle 5 Palermo" project (Barranquilla, Colombia)
In Colombia, the "Muelle 5 Palermo" project team has put in place a number of routine environmental actions, such as daily decontamination of the seabed surrounding the construction site through waste collection, or protection of run-off water to prevent hazardous materials from falling into the sea. Runoff is prevented at source by protecting the soil during concrete pours, material storage and hazardous waste disposal.
In addition, site teams have implemented a system for recovering water generated by condensation from air-conditioning units, for use in cleaning common areas. And to reduce waste production, all employees have been provided with individual reusable cups.
Balineau & Soletanche Bachy International – "Pont du Larivot" project (French Guiana)
On the Larivot Bridge worksite, a marine mammal and sea turtle monitoring system has been set up by the project teams, in collaboration with Freyssinet and Dodin Campenon Bernard teams, to limit the impact of the works on the fauna present in the area. Work is systematically postponed as soon as an individual is detected in the area close to the site.
BSGL – "3 Runway System – C3205 project" (Hong Kong)
The extension of Hong Kong's international airport with the 3RS (3 Runway System) gave rise to this maritime project, which was completed in December 2020.
As this project is adjacent to the home of China's white dolphins, a number of environmental measures have been taken to minimize the impact of the work on the environment, particularly the marine environment:
Double layer of sediment containment curtains
Designation of an exclusion zone to prevent any intervention in Chinese white dolphin habitat.
Suspension of work when the presence of dolphins is detected, using surveillance personnel during the day and infrared cameras at night.
Use of anti-vibration pads on all barge equipment
100% reuse of drilling mud after treatment with filter bags
Installation of curbs or bumpers to contain small spills from equipment, as well as spill kits with personnel trained in their use
Dust collection equipment for cement loading and unloading.
Use of "Magic" drills only 5.2 metres high (ideal for airport work), requiring much less cement than conventional drills.
Placement of a layer of geotextile on the seabed and a 2-metre layer of sand on top to prevent upwelling of potentially contaminated subsoil.
Ocean preservation starts on land!
Take up the "Rescue Ocean" challenge and take part in a garbage collection in your area to help reduce the amount of plastic waste that ends up in our oceans. Build Better Together!