Environmental Improvements at Roger Bullivant
Roger Bullivant has implemented key initiatives to drive environmental improvement within the business. The company has implemented several environmental initiatives over the last 18 months, including the addition of new GGBS cement silo storage, electric forklift trucks, photovoltaic (PV) panels and a move to green tariffs at our South Derbyshire factory. Let's discover in detail each initiative!
New GGBS cement silos installed
In December 2021 we installed two new 100 tonne cement silos. This triples our current storage capacity which not only reduces supply chain risk, but more importantly, facilitates the move to low carbon concrete.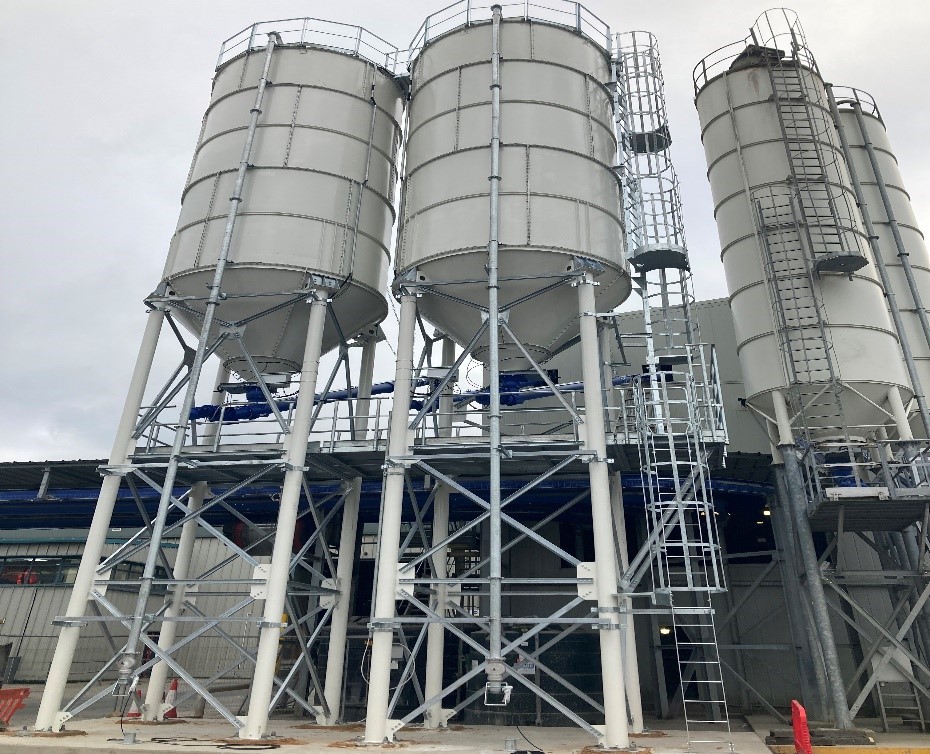 What benefits does this bring?
A 50% reduction in cement content using recycled Ground Granulated Blast Furnace Slag (GGBS)
It will reduce the embodied carbon in all RB precast concrete products by 30% and the intention is to push this further!
We have worked closely with the Group's materials laboratory team in France on this project. They introduced us to our GGBS supplier, Ecocem who have also been an important partner throughout the R&D process.
One of the initial challenges when substituting cement is early strength.  We have overcome this using readily available accelerating chemistry.  However, we are continuing to develop this to reduce our overall curing times further, reducing product release times compared to 100% cement mixes.
Electric Forklift trucks
Sustainability is a key strategic priority for the business and as part of the Group's strategy to reduce its carbon footprint by 40% by 2030 Roger Bullivant has replaced the factory's entire fleet of diesel-powered materials handling equipment with new electric forklift trucks. This investment has significantly eliminated harmful exhaust Co2 emissions and exhaust particulates inside the factory and enhanced the company's carbon footprint and reduced overall fuel costs.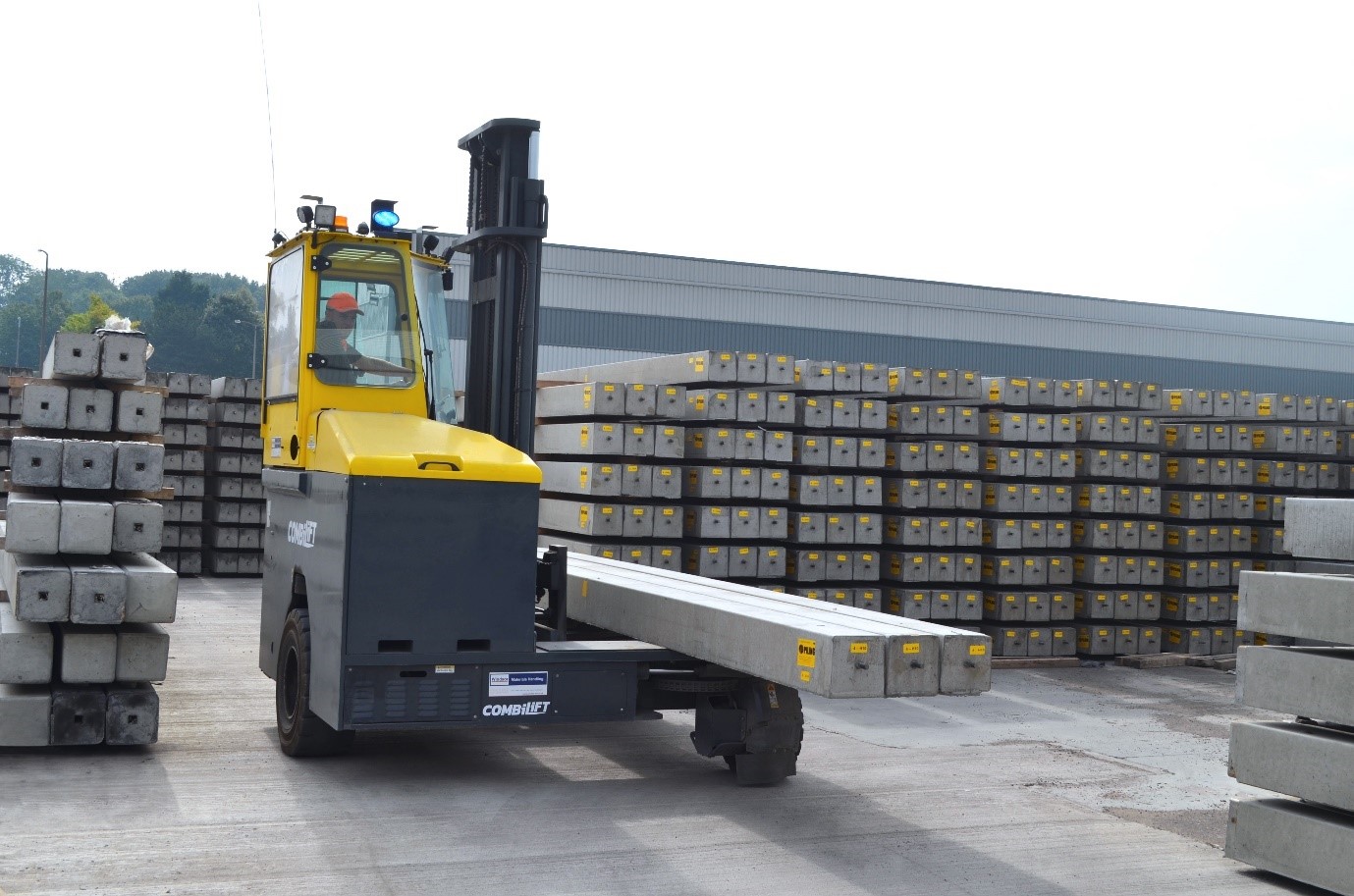 In early-2021 RB was one of the first companies to take delivery of Combilift's new electric Combi-XLE models.  The five 5t capacity trucks work in the factory and yard, taking products from the manufacturing area to outside storage bays where piles (up to 6m in length) are stacked to a height of around 2m and left to cure for 14 days before being ready for nationwide customer delivery. The Combilifts' multidirectional manoeuvrability enables easy access to restricted areas between the stacks or around corners with even the longest loads.
"As we had already been using Combilift units for years due to their versatile and space saving characteristics, the product decision was straightforward, and from a driver perspective the operation remains essentially unchanged.  Battery life generally lasts a whole shift, but we have several charged spares that can be quickly changed-out on particularly busy days. To round off this green initiative we have also installed solar panels on the factory which provide the recharge energy." Dave Clement – Production Director
Photovoltaic (PV) Panels
To create a renewable energy source a 102 kWp photovoltaic system has been installed on the roof of the main factory building. Following the successful rollout of this green initiative, work is under way to significantly increase our renewable energy capacity.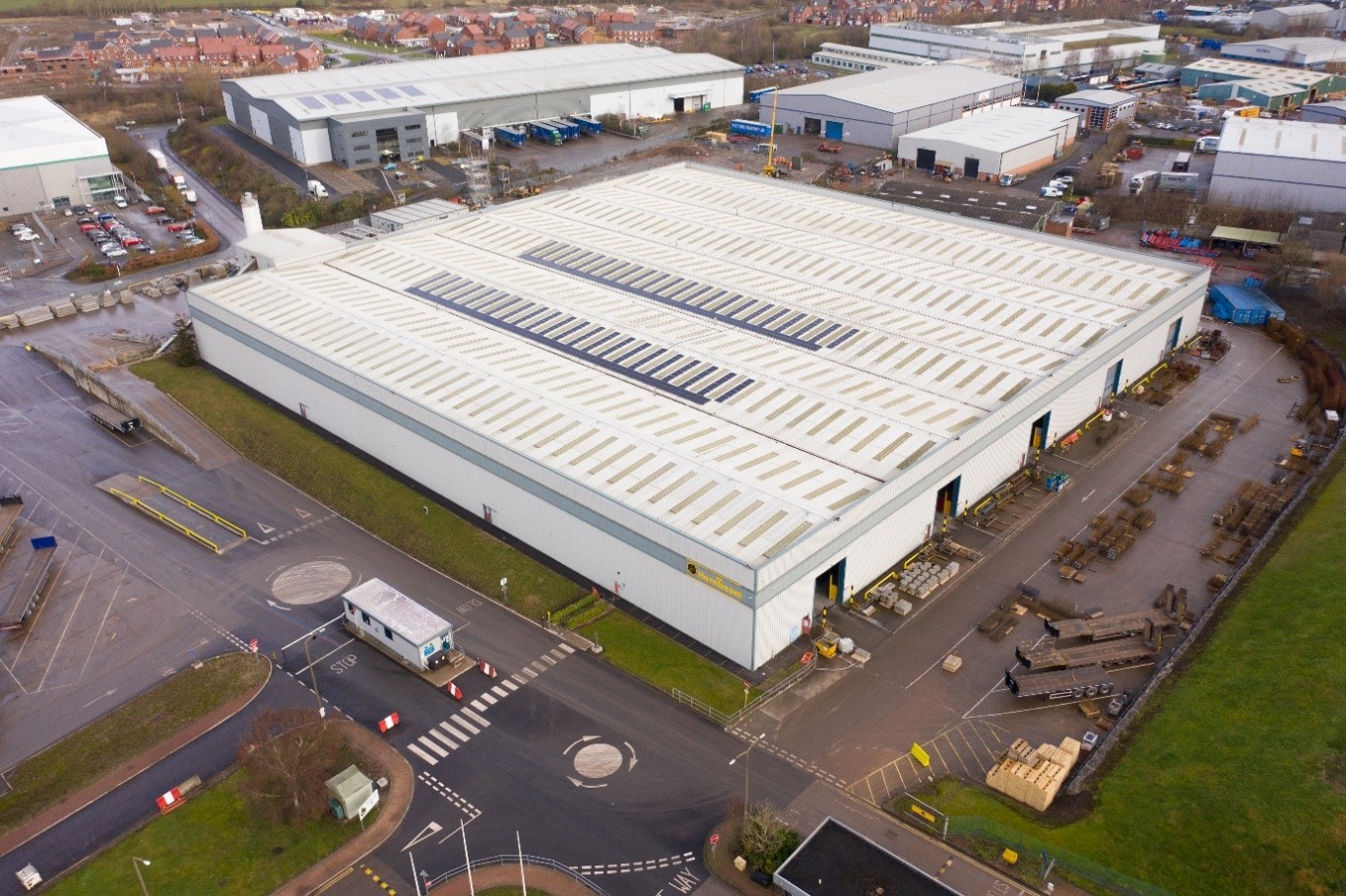 Green Tariffs
Through the Group Energy Procurement Policy, all RB energy supplies are sourced via 'Green Tariffs' across all managed business units. This means that the company does not use energy derived from coal-fired power plants, nor any other power generation that could have a detrimental impact on the environment.  We only use Green Energy through renewable sources.
Roger Bullivant continues to push forward environmental sustainability projects, and this is a key focus for the business moving forward. New sustainability suggestions are reviewed, and further research is being completed to see what can be added, to drive the improvement of sustainability of the business.