This preventive technique is an essential complementary expertise in tunnel construction.
Soletanche Bachy uses compensation grouting to limit surface settlement during tunnel construction.
What is compensation grouting?
The excavation of underground tunnels is always accompanied by surface settlements with follow a Gaussian bell curve profile and may result in significant levels of damage.
The principle of compensation grouting is to avoid soil decompression as a result of earthworks by delivering precise and calibrated quantities of grout between the tunnel and the structures to be protected. The key factors are:
the calibration of quantities injected,
the perfect synchronisation between grouting and earthworks: grouting must always precede settlement,
the use of an accurate real-time control of grout placement, and the monitoring of ground and structural deformations.
What are applications for compensation grouting ?
Compensation grouting can be used wherever there is a risk that a tunnel worksite could cause a sensitive structure to deform. It is relevant for all tunnelling techniques: tunnel boring machines (TBM), traditional tunnel, NATM, etc.
It has the following limitations from the geotechnical point of view:
It is important to locate a suitable ground layer for compensation grouting – the method is ineffective in soft clays, because the compensatory effect is not sustainable
Structures built on piles are, by their nature, more difficult to protect using compensation grouting.
Compensation grouting can perfectly be used with the Observational Method. Commonly, compensation grouting plays a major role within a remediation programme to provide protection to existing structures in case something occurs as the tunnel boring machine is progressing.
What are the advantages of this technique ?
It is perfectly adapted to tunnel construction
It limits the settlement of neighbouring structures
It is a "surgical" treatment, used only when and where necessary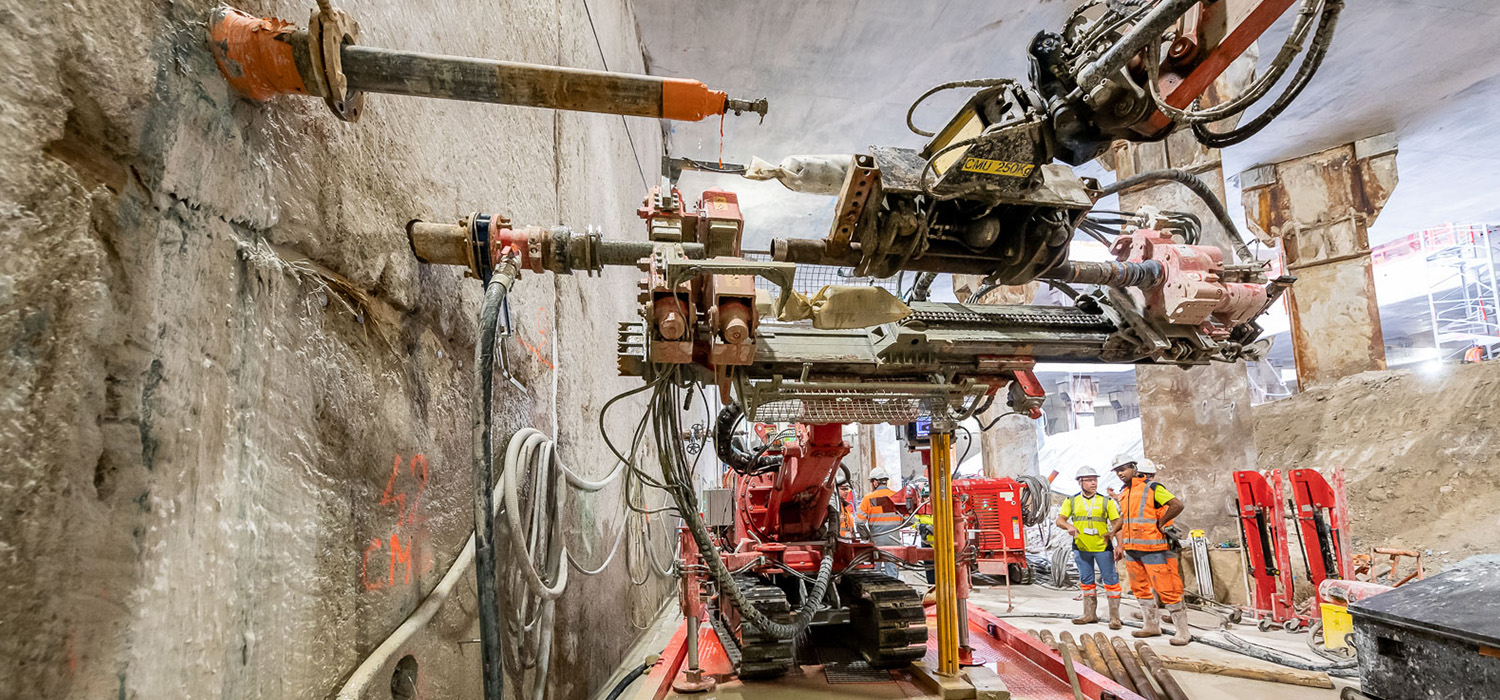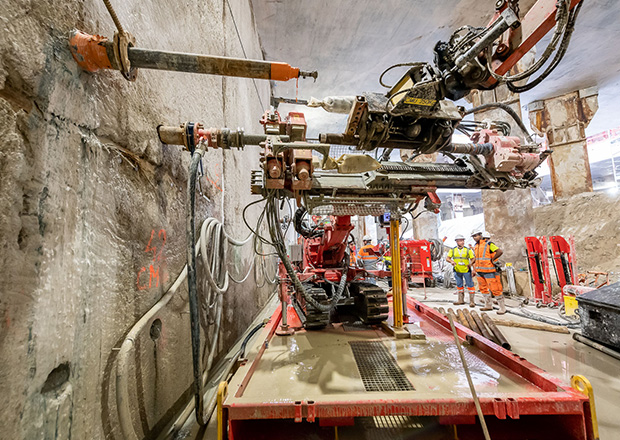 How are compensation injections performed?
Compensation grouting drilling can be either sub-vertical or sub-horizontal. On surface, motion sensors are installed on the structures to be protected.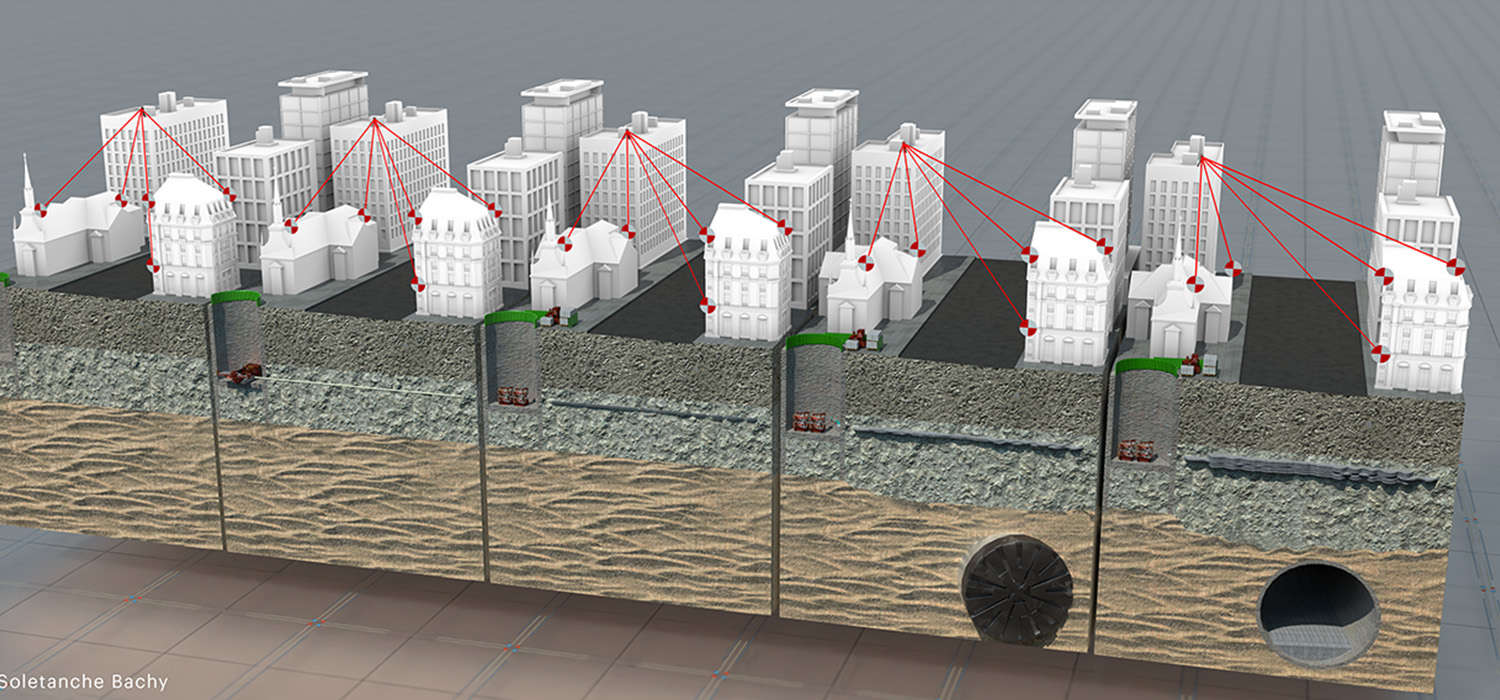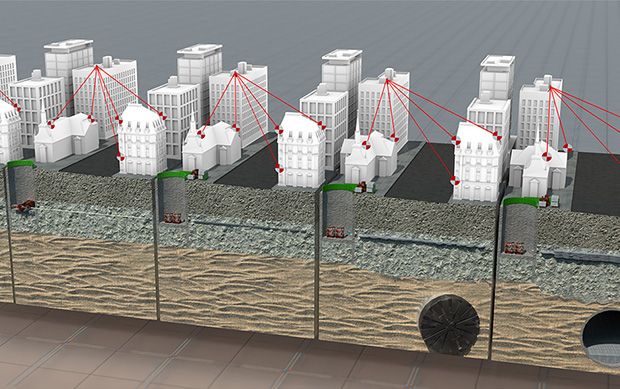 An initial phase of pre-conditioning injections precedes tunnel boring to firm up the soil around the injection drillings. The compensation grouting process must be perfectly monitored and controlled, as it involves small quantities of grout at low flow rates and pressures.
The second phase is carried out during the tunnel excavation using either traditional methods or mechanised methods, such as tunnel boring machines or micro-tunnel boring machines. Additional compensation grouting is delivered as soon as any excessive movement has been detected on the surface structures.
Once the tunnel has been built, a final consolidation phase compensates for any further settlement of the soil, which is particularly important in clay soils.
Soletanche Bachy's advantages
Execution controls and monitoring
Compensation grouting are carried out in real time throughout the implementation process.
SPICE®, the Soletanche Bachy computerised grouting system, is particularly well suited to this application. It is also vital that comprehensive on-site instrumentation is installed to provide regular monitoring of any deformation in soils and the structures to be protected: the GEOSCOPE automatic monitoring system developed by Sixense Soldata can be linked to SPICE® to provide monitoring from the central injection plant.
Settlement as a result of tunnelling progress is forecast by a special module within the SPICE® system using a simplified settlement calculation model previously aligned with finite element calculations and continuously adjusted to reflect on-site observations.
Soletanche Bachy carried out the first compensation grouting operation with real-time settlement monitoring on the Jubilee Line underground project in London (UK) back in 1994.