Update on the New Zealand City Rail Link
For almost two years now, the teams of Soletanche Bachy International Major Projects and March Construction have been working on the various works packages for this major project to construct an underground rail link extending the regional network to Auckland city centre.
The Link Alliance consortium, comprising VINCI Construction Grands Projets, Soletanche Bachy International and their partner Downer, as well as the designers Aecom, WSP and Tonkin & Taylor, was awarded an alliance contract (including the designer-builder consortium and the client, City Rail Link Limited) to carry out CRL works packages C3, C5 and C7 – soon to be joined by the C9 works package.
In other words, these combined Link Alliance works packages cover the design-build of a 3.45km rail extension, including 3.2km of tunnel and the construction of three new stations, as well as connection of this final link to the existing network, including bridges and overpasses, as well as all electromechanical components and railway systems.
What stage are we now at?
Preparatory work has been completed, including demolition, worksite facilities and temporary network diversions. All network diversions will be completed by the end of the year.
The deep foundations (diaphragm walls, piles and anchors) are over 70% complete.
The mined tunnels are at close to 40% on three fronts.
The tunnel boring machine has just started to work. Its launch was celebrated on Friday, 7 May 2021, at a ceremony attended by the Mayor of Auckland and the Minister of Transport. The tunnel boring machine is named after Dame Whina Cooper, a leading figure in the fight for Māori land rights.
The station structures works have reached cruising speed, which will now need to be maintained for the next 12 months.
Trains currently run on a single track – in both directions – alongside the worksite for the new track, to which trains will switch in January 2022. The piles and retaining walls are at an advanced stage and work is now beginning on the earthworks.
The rail systems teams are preparing to lay the new tracks and install their overhead power lines. Studies are well under way to integrate the new rail systems into the existing network.
The electromechanical work and architectural works packages are being prepared, with design studies and procurement progressing in parallel. To be noted that the BIM model is the single source of truth for all teams!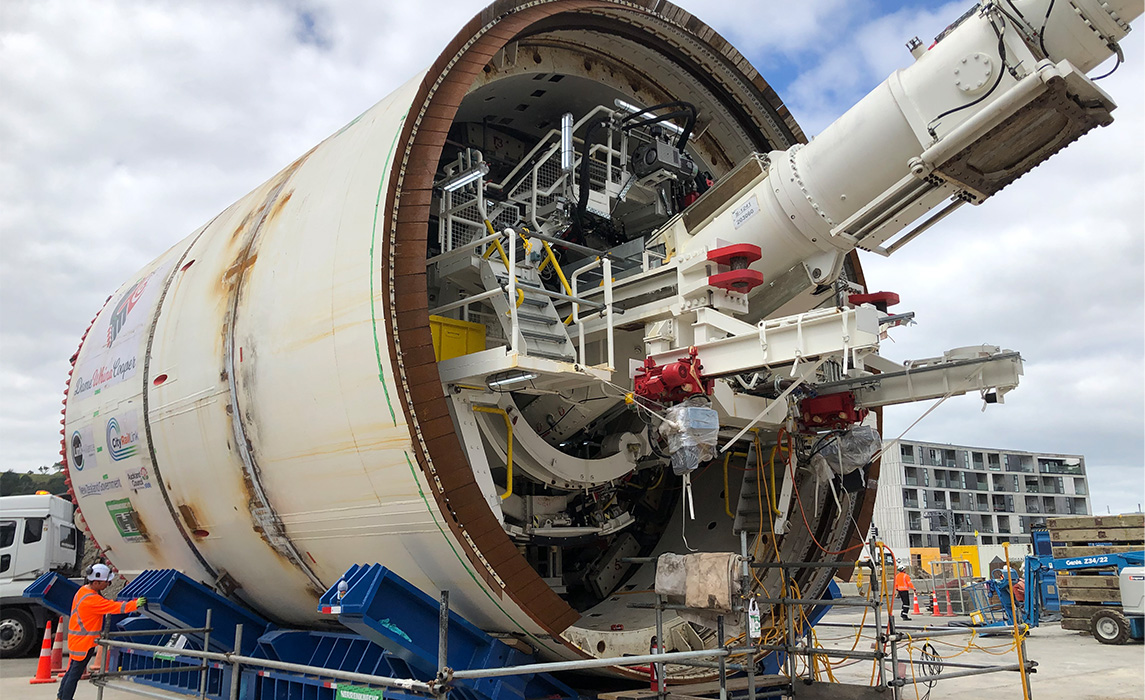 In short, the worksite is moving ahead as planned. 1679 Alliance's collaborators are working on site, while 452 are employed in offices and in the design studies teams. The Soletanche Bachy International/March workforce currently stands at 172.
As a reminder, SBINZ and March were also involved in the C1 contract – the first section of this rail link. Work has now been completed and the new entrance to Britomart station was inaugurated on 6 April 2021.