Soletanche Bachy Paraguay: end of a first contract with numerous technical, safety and environmental successes
Soletanche Bachy Paraguay finalised the design and build contract on 15 October for the Underground Chambers of the Wastewater Treatment Plant (PTAR) at Bella Vista – Asunción (Paraguay).
The chambers are part of the Treatment Plant being built by ACCIONA AGUA for the Ministry of Public Works and Communications of Paraguay (MOPC), financed by the Inter-American Development Bank.
The project consists in constructing the two deep chambers of the purification plant: the "coarse screening chamber" and the "pumping chamber". The total internal area is 400m2, and the maximum depth of the excavation is 17m. The PTAR is being built in an area of sandy made-up ground on the banks of the River Paraguay.
This whole project is a great step forward from the technical-commercial, safety and environmental points of view.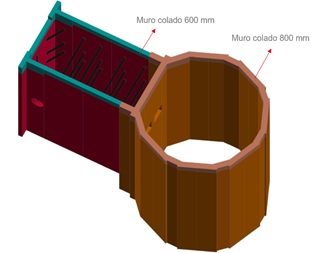 Commercial and technical innovation: a great step forward for our Paraguayan teams
In commercial terms, this is the first contract to be carried out by the subsidiary in the country, in accordance with a "turnkey" design and build solution proposed by the local team.
On the technical part, it is the first time that a circular diaphragm wall and barrettes for deep foundations have been produced in Paraguay, marking a milestone for local engineering, milestone that we are proud to have initiated. The project was executed with the proposed internal objectives all achieved and to the complete satisfaction of ACCIONA and the Ministry, and one week ahead of the official schedule.

Safety success
The project required around 40,000 hours of work, and it met the initial objective of zero accidents.
Recognition for our commitment to the environment
100% of the electrical energy generated in Paraguay is from hydroelectricity. Soletanche Bachy Paraguay decided to make the most of this situation by striving to draw up and implement strategies to improve the sustainability of the project and reduce emissions during its execution (by avoiding the use of combustion generators and using recycled materials to make the work platform, among other things) which has enabled significantly lower rates of emissions to be produced than would have been the case without these measures.
This firm commitment to the environment was recognised on 28 October by the award of the prize "SDG Recognition ODS Paraguay 2021 (Sustainable Development Goals Paraguay 2021), in the Large Companies section, Planet category" from Global Pact Paraguay, the Centre of Information and Resources for Development (CIRD), and with the support of the European Union in Paraguay, and in partnership with the Paraguay SDG Commission and the United Nations Development Programme.
Congratulations to our team!