Monaco Testimonio II – End of this flagship Soletanche Bachy foundations worksite
To mark the end of the works for the Soletanche Bachy teams, let's take a look back at the Testimonio II project in Monaco – a deep foundation project, exceptional in terms of its duration, its technicality and its commitments to reducing the environmental impact of worksite.
Release of the temporary anchors – a final step successfully completed
Six years after work began, the worksite teams completed the final critical operation: releasing the temporary anchors of the 35m-high retaining structure located under the Villa Florida, while ensuring transfer of the earth pressure to the self-stabilising structure built in front. This loading of the building was done by horizontal jacking of the floors to compensate for the structure's specific deformations in order to reduce settlement under the villa.
At the end of the operation, the structure's deformations proved to be in line with estimates and settlement under the villa was no more than 2mm (making a total of approximately 2cm since the start of the works).
This last step marks the end of the works for Soletanche Bachy.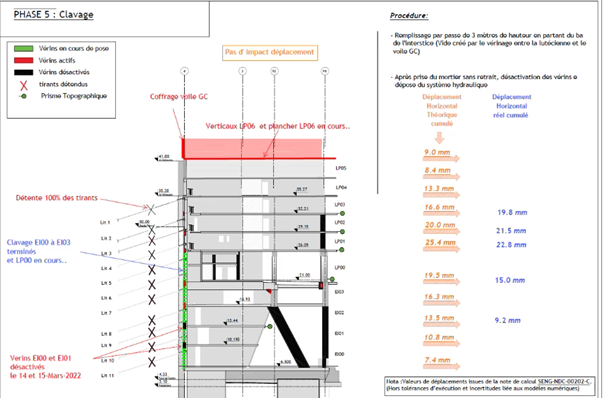 A technical worksite with high environmental quality for constructions of the foundations for a building of very high architectural quality
This flagship worksite in Monaco is exceptional in many ways.  
Firstly, due to its geographical location in the heart of Monaco. The plot is therefore on a very steep slope, as well as an extremely complex hydrogeology and geotechnics. 
Despite these exceptional constraints, no fewer than eight special foundation processes were implemented and cohabited in a very restricted urban space, requiring an almost unique level of simultaneous work by different trades. 
In a few figures:
23,600m2 of diaphragm walls and 1000mm thick barrettes
21 Berliner piles 1000mm in diameter and 40m deep
About 4000m of micropiles, including a high proportion of large diameter (300mm or more)

5000m of piles

 

14,000m of ground anchors
Approximately 19,500m of solid grouting drilling

 and injection of bentonite cement grout.

 
Panoramic view of the Testimonio 2 construction site in Monaco
Aerial view of the Testimonio 2 construction site in Monaco
Many actions to reduce the environmental impact of the construction site
Challenged by our customers – the Marzocco Group and Vinci Immobilier – in terms of both our works' technical performance and their environmental impacts, the Soletanche Bachy SAM, VINCI Construction Monaco and GTM Sud teams have been able to apply all their expertise and knowledge to implement the best special foundation solutions, with a consistent environmental commitment. 
Preservation of surrounding water sources, reduction of vibrations, noise pollution and direct and indirect carbon emissions, the worksite teams can be proud of their result: 
More than 6,400 tonnes of CO2 emissions

 

avoided

, largely thanks to the use of Exegy by Soletanche Bachy ultra-low-carbon concrete, formulated by our laboratory.

 

Nearly 5000 litres of fuel saved per working week

, largely thanks to the use of the Hydrofraise® with electric power pack.

A four-fold reduction in noise impact

thanks to the electric Hydrofraise® and even more for the Hi'Drill® Sonic drill.

5,000m

3

 to 10,000m

3

of water saved.
Congratulations to all the teams who participated in this great adventure, which once again demonstrates the extent of Soletanche Bachy's expertise in the construction of complex structures in ultra-urban areas, exemplary in environmental terms and involving multiple processes. (Piles, grouting, diaphragm wall, anchors, etc.).

Exegy by Soletanche Bachy – Foundation solution with a reduced carbon footprint
Soletanche Bachy has been using low-carbon concrete in its foundation works for over 30 years.  
With our Exegy by Soletanche Bachy solution, we are able to supply standard concretes and grouts available on the market, as well as using our laboratory to develop bespoke concrete and grout formulations, adapted to the project's needs.