ForSHORE by CIMESA – Delivery of dock in Altamira, Mexico
On 30 November 2022, our Mexican subsidiary Cimesa successfully completed the expansion of the dock of the IPM (Infraestructura Portuaria Mexicana) terminal in Altamira (Tamaulipas State). The 350 m-long and 37 m-wide dockside has a dredging level of -16.00m. In addition, a service area of 1.24 Ha has been created for the unloading of containers and loading in general, enabling cranes to be operated on two lines of track.
Operadora Autopistas Nacionales EQUIVENT (PINFRA Group) awarded the 27 M USD Project to us in August 2021, with a timeframe for completing the Project of 315 calendar days, beginning on 25 October of the same year.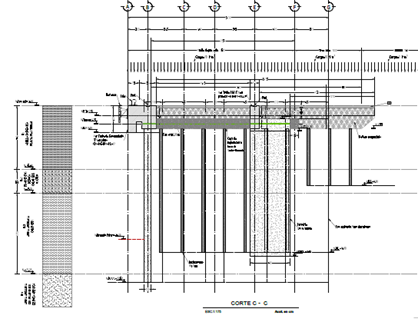 The structure of the dock is based on a diaphragm wall, 1.00 m thick, 350 m of wall to the front facing and 55 m of wall in returns. Its thrust depth is 25.2 m (elevation -22.5). Its retention system is formed by 67 barrettes positioned both in parallel and perpendicular to the direction of the dock, 60 cm wide and 6 m long, with a thrust depth of 21 m (elevation -18.0). The joint between the diaphragm wall and the reaction barrettes is achieved with 186 "tensor" tie-rods of 6 and 8 cm diameter with a maximum length of 22.5 m. The girders of the front and rear capstones have a camber of 3.45 m, and a width of 4.25 and 1.4 m respectively.
Principal quantities:
Reinforcing steel for diaphragm wall and barrettes: 2,155 t
Reinforcing steel for various concrete structures and drainage: 953 t
Concrete in diaphragm wall and barrettes: 13,725 m
Concrete in capstone girders: 6,938 m3
Cement floor of 6 MPa: 9,685 m3
Compacted fill: 23,268 m3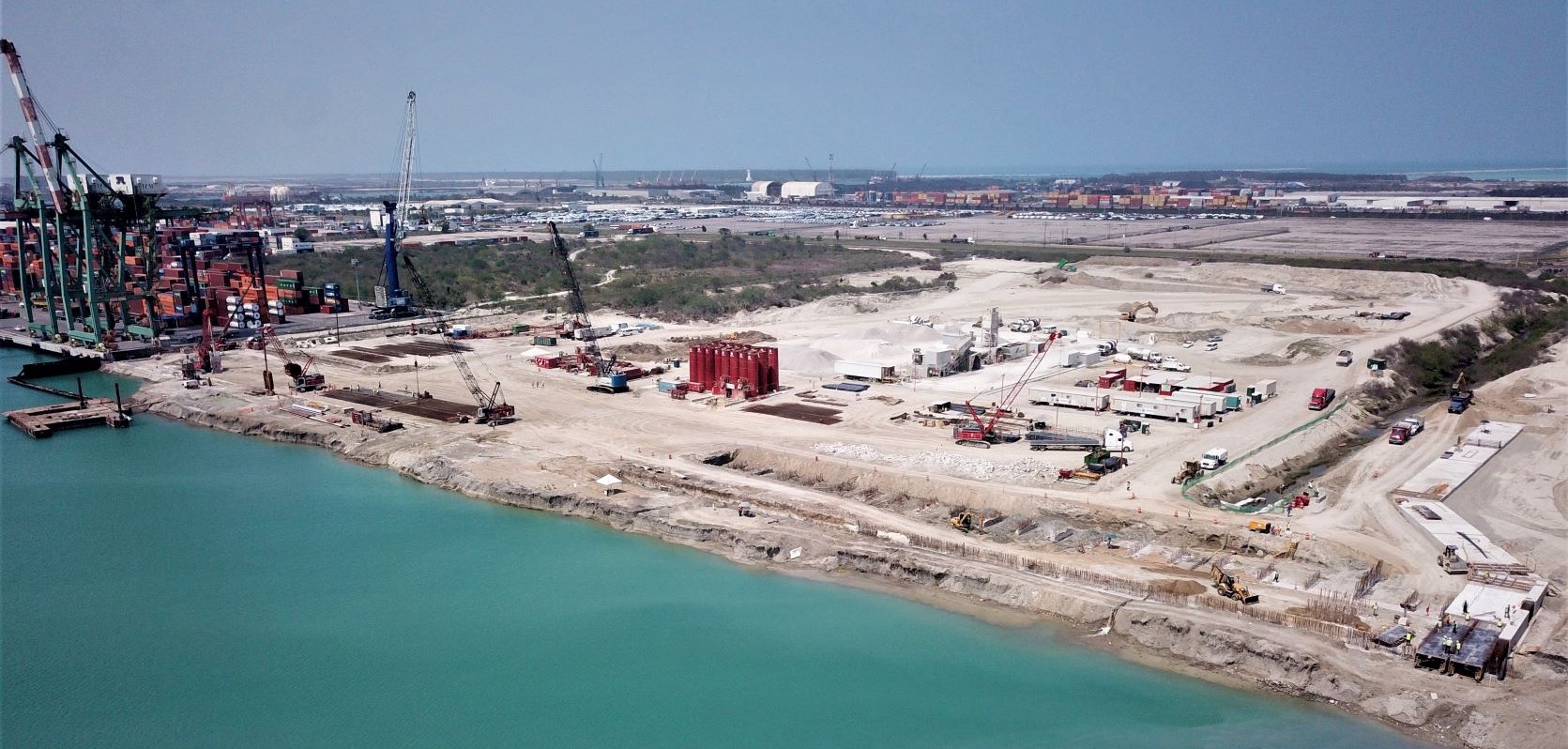 We should mention that, owing to the fact that the dock is located on soft, shallow clay soils, and to eliminate the possibility of significant settling, when in operation, because of the filler loading and service load, 10 lines of rigid inclusions were designed and constructed along a 30 m strip parallel to the frontal wall. There are a total of 1107 rigid displacement inclusions providing a huge improvement to the ground.
Each inclusion is 0.40 m in diameter, 780 are 20.75 m long (elevation -18.0) to reach a load capacity of 10 ton/m2 and 327 are 11.75 m long (elevation -8.0). And in the road area, the load capacity achieved is 2 ton/m2.
The area of the final platform is formed by a floor of MR48 concrete with a thickness of 30 cm, supported by 5 layers of soil-cement with a resistance of 6 MPa and compacted fill at 95% of its maximum dry density.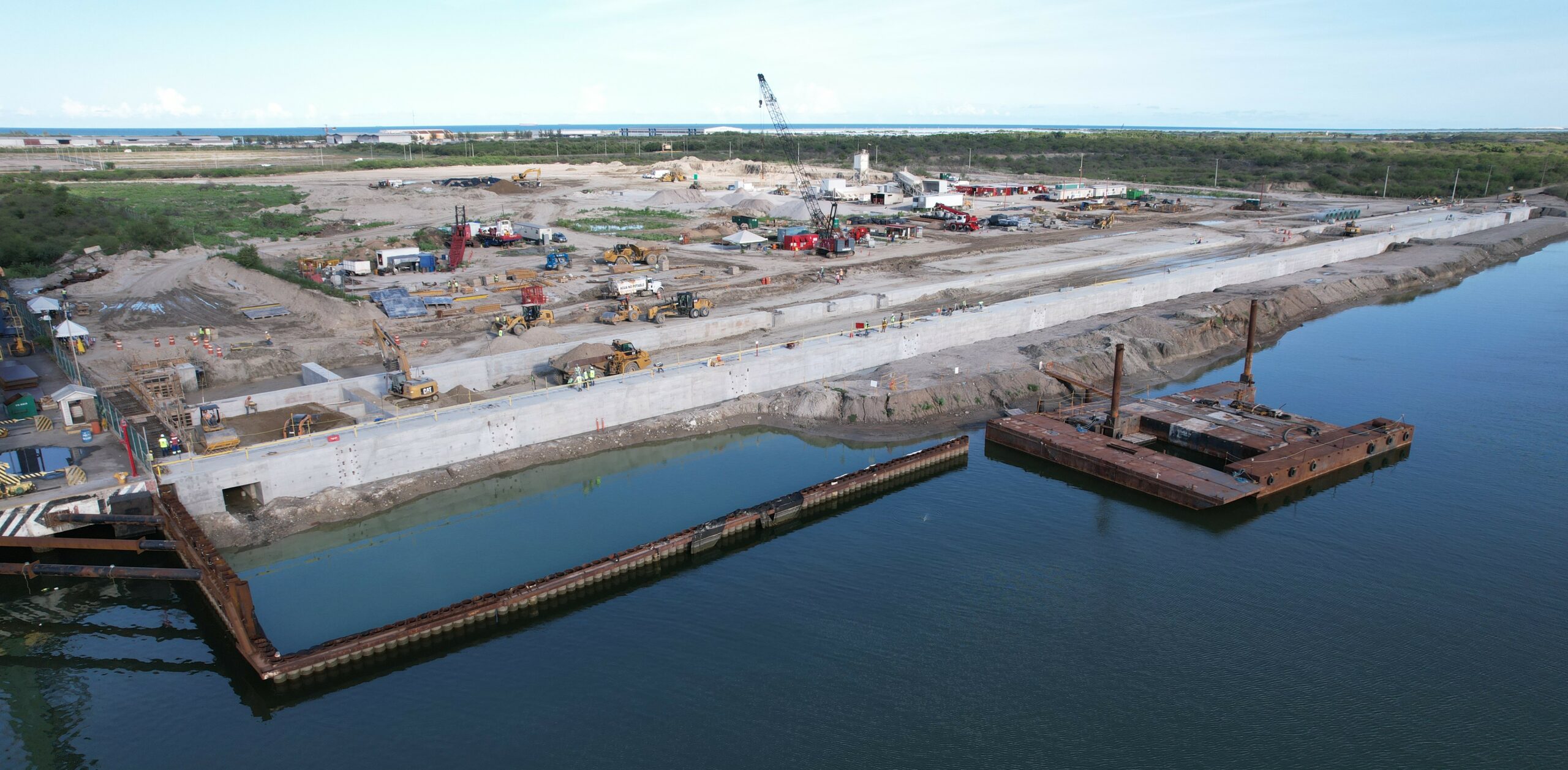 To discharge the existing drainage system and that of the project, channels were constructed, one on the south side of the dock (double drawer culvert type, 140 m long) 7 m wide and 2.35 m high; and another on the north side (rectangular in section and 48 m long) 2.5 m wide and 2.3 m high. Similarly, a central one is provided to evacuate water from the yard, formed by a concrete tube, 1.2 m in diameter and 33 m long.
As a system to monitor the performance of the slurry wall (before, during and after the dredging works) 4 inclinometer tubes were also installed. This technology enables us to confirm the structural performance of the wall.
The following special fixtures were installed:
13 sea defences, 4.2 m high and 2.25 m wide with an energy absorption of 1,050 kNm
13 bitts with a capacity of 150 t
2 sea staircases
To operate the cranes, 2 lines of A100 type track were installed, separated from each other by 16 m. Each junction of the track was done using exothermic welding
350 m of Trenchlok ducts for the cabling of the cranes
Epoxy paint on the facing of the dock (in accordance with specifications for maritime works)
This Project is a great example of the ability of Cimesa to offer turnkey solutions in port situations, perfectly combining the 2 pillars of Design and Construction of the ForSHORE brand.