Soletanche Bachy launches its Environmental Action Plan
The Group has set itself an ambitious environmental target – to reduce its carbon footprint by 40% by 2030 (Scopes 1 and 2). To achieve this, Soletanche Bachy is launching an Environmental Action Plan which aims to implement practical measures to reduce our consumption of fuel and cement and improve recovery of our worksite waste.
To comply with the Paris Agreement, VINCI has set itself the target of reducing the direct impact of its activities, with an initial milestone in 2030 which aims to cut emissions by 40%.
Soletanche Bachy has long carried out environmental actions in terms of waste sorting, wastewater treatment, anti-pollution measures and noise pollution reduction. More than half of the Group's local subsidiaries are ISO 14001 certified for their environmental management system and many of them have long used cements with a reduced carbon footprint (CEM II and CEM III).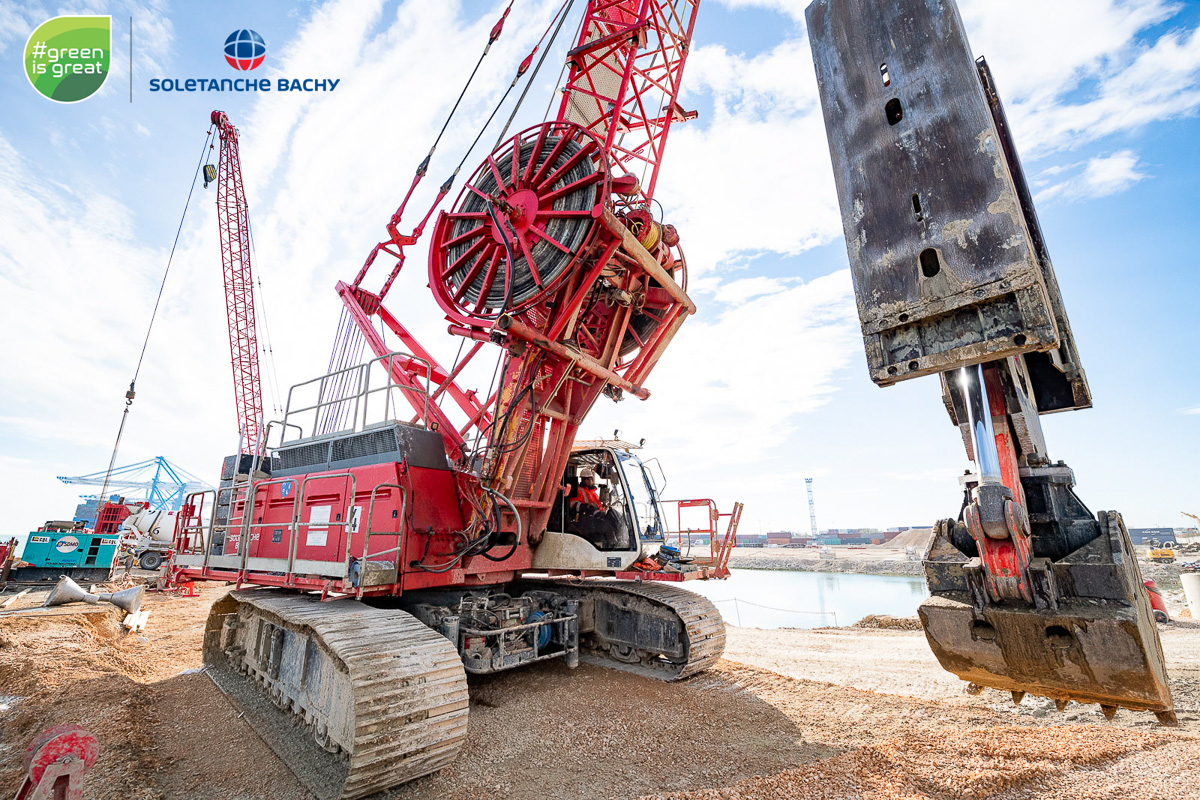 A pragmatic, local and dynamic Environmental Action Plan
With its Environmental Action Plan, Soletanche Bachy goes further by adopting a pragmatic and local approach, favouring practical and targeted actions developed in each subsidiary and at Group level.
The objective is to reduce the Group's carbon footprint by 40% by 2030 for Scopes 1 and 2. The main means of achieving this figure is to reduce direct and indirect consumption of fossil energy, particularly fuel, which currently equates to 40 million litres (or 91% of Soletanche Bachy's emissions for Scopes 1 and 2). Soletanche Bachy also aims to reduce its consumption of cement, large quantities of which are used in concrete for diaphragm walls, grout and prefabricated piles. For achieve this, the Group is counting on the use of cements with a reduced carbon footprint (CEM II and CEM III) and the addition of substitute bonding agents.
"Our customers, employees, investors, in fact the whole of society, expects companies to place greater importance on environmental and climatic issues, particularly in the construction sector. Our Action Plan should allow us to progress in our practices, to imagine new solutions for our foundation and soil technologies worksites and to offer a global performance that meets those expectations."
The impact of our Environmental Action Plan
Each year, reducing our carbon footprint by 40% would allow us to:
Release 67,000 teq of CO2 less
Lower our fuel consumption by more than 16 million litres
Reduce our power consumption by over 9 million kWh
What are Scopes 1, 2 and 3?
Scope 1 (direct emissions): Greenhouse gas emissions directly produced by Group operations, in particular from fossil fuels used by vehicles, equipment and generators owned or controlled by the Group.

Scope 2 (direct emissions): Emissions from the generation of energy purchased by the Group.

Scope 3 (indirect emissions): All indirect emissions that occur in the value chain of the Group, including the production of materials, sub-contracting and the use of goods and services.