Port 2000 phase III worksite in Le Havre, committed to the environment
Since the start of 2020, the works teams have been involved in the construction of berths 11 & 12 for phase III of Port 2000 for the Grand Port Maritime du Havre. Numerous initiatives to reduce the environmental impact of the works have been undertaken as part of this large-scale project.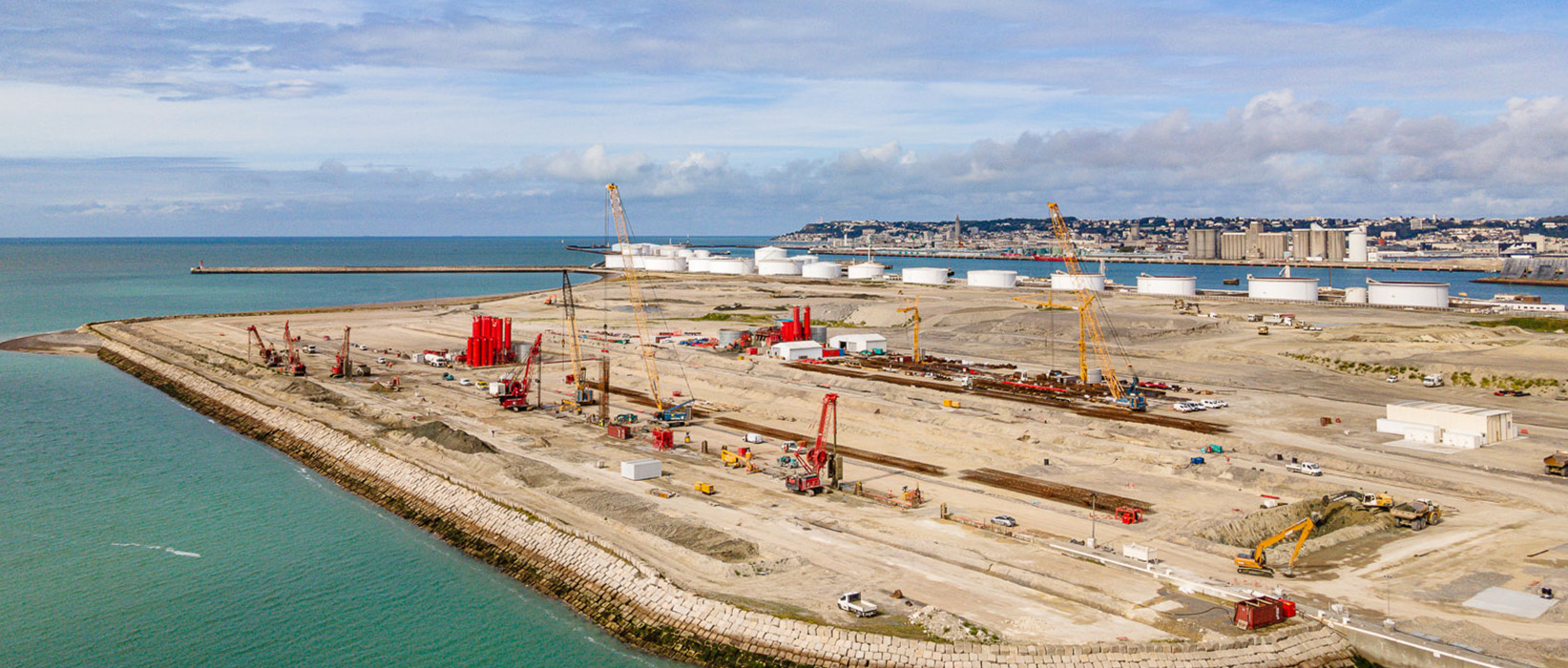 This approach began with alternative solutions proposed at the study phase:
Optimisation of the beds level of anchors on part of the linear section: reducing the need for cutting/filling.
Optimisation of the return quay: reducing the need for concrete and steel.
….
The collaboration between the sales teams, the materials laboratory and the works teams made it possible to adopt low-carbon approaches for the concrete used. In fact, the concrete used for phase II of Port 2000, completed from 2007 to 2010, were already very low carbon (163kg CO2 eq/m3).
For phase III, 35,000m3 of very low-carbon concrete (140kg CO2 eq/m3) and 1000m3 of ultra-low-carbon concrete (97kg CO2 eq/m3) are being used. And in order to perfect our knowledge of these materials, we will be constructing a barrette using binder made from activated slag (88kg CO2 eq/m3), ultra-low-carbon concrete, a first for Soletanche Bachy France!
This trial will enable us to complete our reference catalogue for low-carbon and ultra-low-carbon concrete.
….
Lastly, the works teams, meanwhile, have put in place the measures necessary for sustainable management of drilling mud, with the used diaphragm wall mud being returned to the grout production plant, thereby avoiding the elimination of 12,000m3 of mud and 600 truck rotations.
---
GLOSSARY
Blast-furnace slag: an artificial mineral produced by the iron and steel industry. Slag is an industrial co-product that can be used to partially replace the clinker present in cement, enabling the production of low-carbon or ultra-low-carbon concrete. Clinker is responsible for cement's high carbon footprint.
Activated slag: a combination of blast-furnace slag and an alkaline activator which allows concrete to harden.
Fossil energy: "fossil energy" is the name given to the energy produced by the combustion of coal, oil and natural gas. These fuels, rich in carbon and hydrogen, come from the transformation of organic matter buried in the soil for millions of years (hence the term "fossil").
Clinker: a constituent of cement, which results from the firing of a mixture of limestone and clays.