New AFGC guide to composite reinforcements – A wiki on these structural elements rarely used by our business lines.
To mark the contribution made by Soletanche Bachy France Design Office to the drafting of recommendations for the French Civil Engineering Association (AFGC – Association Française du Génie Civil) on the use of composite reinforcements, let's take a closer look at these structural elements which are still rarely used in our sector…
What are composite reinforcements?
They are non-metallic reinforcements used to replace steel reinforcements (rebars and stainless steel bars) in reinforced concrete structures. They are made up of very fine fibres (generally glass, aramid, carbon, or occasionally basalt) which give the reinforcement its strength and a matrix (epoxy, vinyl ester or polyester) which holds the fibres together and protects them.
A bit of history…
The composite materials market emerged in North America from 1970, before spreading to Europe in the early 1980s. Until 2000, it was a niche market, since composite materials were still expensive. Many more applications have emerged over the past 20 years, driving down prices. Canada was a pioneer in the use of composite materials in construction and was quick to adopt a regulatory framework that is now among the most advanced.
Whereas in France, the absence of national guidelines and a lack of historical data concerning the durability of composite materials means that they are rarely if ever used for permanent structures
Thus, our Soletanche Bachy France teams mainly use composite reinforcements for temporary structures, such as reinforcement cages for retaining structures which need to be cut using tunnel-boring machines (e.g. Nice tram, Grand Paris stations).
The forthcoming version of Eurocode 2 providing a regulatory framework governing the use of composite reinforcements, and this new guide offering a comprehensive operational tool for engineers designing structures should develop the use of composites materials in our foundation works.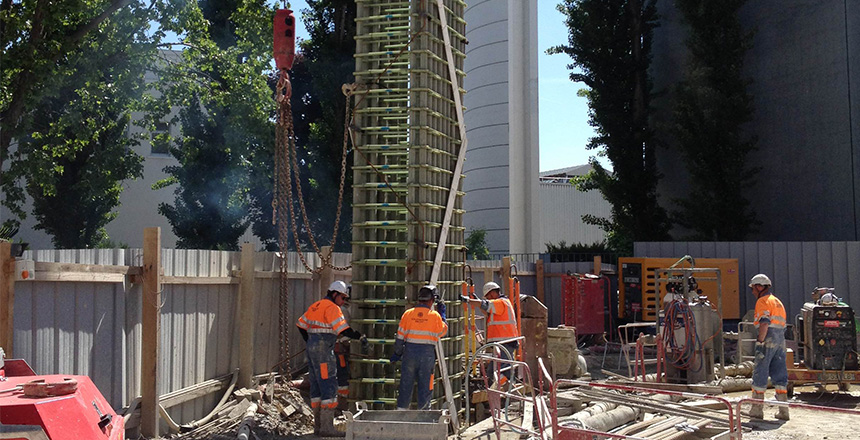 Did you know ?
Eurocodes are the European standards for dimensioning and justification of building and civil engineering structures.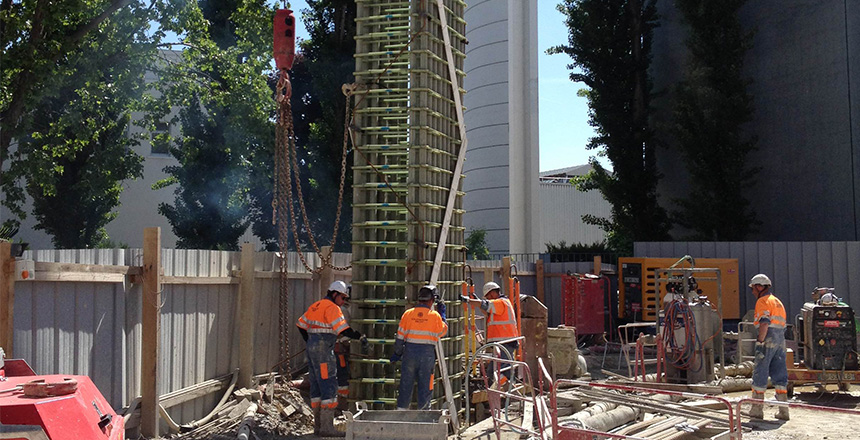 What are the advantages of using composite reinforcements?
The non-metallic nature of composite reinforcements gives them some advantages: 
Since they do not contain iron, composite reinforcements do not rust, making them particularly well suited to highly corrosive environments (e.g. marine environments, bridge decks subject to road salt in Canada and treatment plants). 

They are very light, which has a definite impact on transport as well as handling on worksites. 

 

Finally, being non-metallic also means they are not affected by induced current and are non-magnetic (slabs for MRI scanners in hospitals or below tram junctions, etc.).
Composite reinforcements have quite different physical properties from the steel reinforcements commonly used in reinforced concrete, so it is not possible to simply replace one with the other.
In fact, although composite reinforcements generally have quite a high elastic limit (700MPa to 1200MPa compared with 500MPa for standard steel), they are fragile (liable to break without presenting any major deformation). The regulations take account of this, however, by maintaining a significant margin below the material's maximum strength. We should also add that composite reinforcements are much more flexible than steel, meaning that the traction on these fibres needs to be further restricted in order to ensure behaviour comparable to a steel rebar.
At Soletanche Bachy, our teams bring all their expertise and know-how to develop the reference systems related to our special foundation works and thus offer the most suitable solutions to our customers.