HS2 trials 'first of a kind' electric drilling rig in bid to cut carbon in construction
HS2 Ltd's construction partner Balfour Beatty VINCI Joint Venture (BBV), is currently trialling the world's first all-electric, high-capacity drilling rig on a construction site in Warwickshire, as the Joint Venture steps up its plans to meet HS2 Ltd's ambition for diesel-free construction sites.
The world's first all-electric, high-capacity drilling rig carrying out work on an HS2 construction site in Warwickshire
Results show the new BAUER eBG33 cuts 1,200kg of CO2 per day and reduces noise by 50%
Wider roll-out will bring major environmental benefits for the UK construction sector
Andrea Davidson, HS2's Air Quality Manager said:
"We are proud to be working with our supply chain and leading manufacturers to drive a step change in the UK construction industry, demonstrating the viability and benefits of emissions-free heavy electric plant.

"Being at the forefront of a ground-breaking trial like this is another step on our journey to achieving our target of all diesel-free construction sites by 2029, and net zero carbon from 2035 – helping HS2 to become the most sustainable infrastructure project ever delivered."
The 100 tonne BAUER eBG33 drilling rig creates an overall reduction of 1292kg CO2 per day compared to a traditionally powered rig and also reduces noise by 50%. In terms of performance, the rig is able to carry out exactly the same tasks as a traditional rig.
This innovative new machine is being used by BBV's deep foundations contractor SB3 (a Joint Venture between Bachy Soletanche & Balfour Beatty Ground Engineering), and works alongside a diesel-powered rig to construct large diameter piles, with the aim of demonstrating that heavy, electric-powered construction plant can perform the same tasks as traditional machines.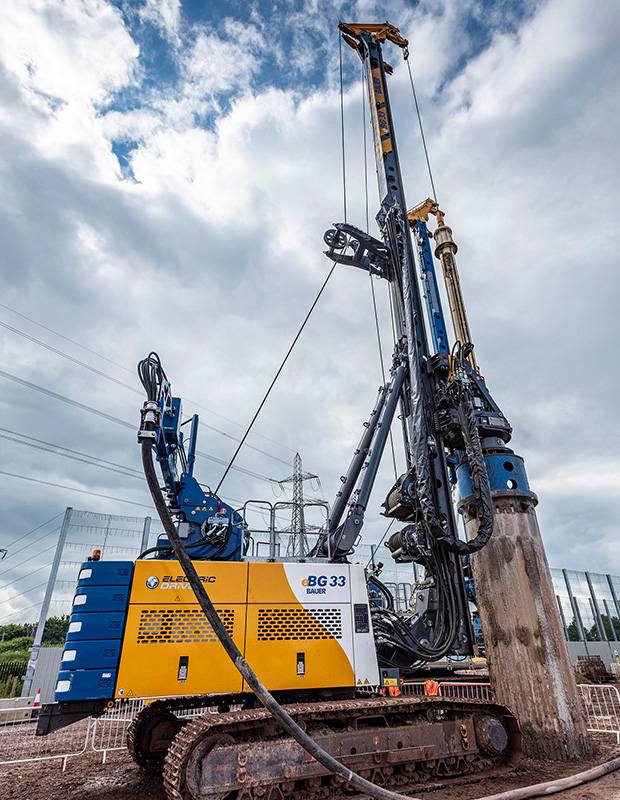 Chris Merridew, SB3 JV Board Director said:
"Our team was eager to support Bauer as the first end user of the electric rig and its new technology.  It has the potential to be a massive game changer for the industry and the wider construction sector in our continued drive to reduce carbon, noise and emissions."
The BAUER eBG33 replaces the diesel engine drive with a powerful electric drive. The environmental benefits include reduced exhaust and noise emissions; high energy efficiency due to modern three-phase asynchronous motor; and flexibility through an integrated frequency converter. BAUER are also trialling different E-connection concepts and an innovative concept for set-up operation via an autonomous secondary drive which is independent of the power supply.