Colombia: GEO completes the expansion project of the Viva Envigado shopping center
Soletanche Bachy Colombia, through its brand GEO (specialist in building foundations projects), has just completed the expansion of the Viva Envigado shopping center, located in the south of the city of Medellín.
The awarding of the expansion project for the Viva Envigado shopping mall was the result of the relationship of trust established over several years with MÉNSULA, the client who built the project and with whom we also completed phase 1 of Distrito Vera.
How GEO won the contract
The work carried out by GEO began with a campaign of soil investigations, carried out with pressure-meter Menard and permeability tests which allowed to know in advance the types of soil and thus adapt the commercial offer to the needs of the client.
The work done by the commercial and construction teams of GEO, as well as the support services, allowed to be awarded this project. It is worth noting that the study phase was carried out jointly by GEO's technical department and the client's teams.
As a result, GEO was selected as the subcontractor in charge of the retaining structures of the Viva Envigado Shopping Center:
Construction of diaphragm walls (thickness 600), with a maximum excavation depth of 17 m in very complex alluvial soils next to the Medellín river.
Large capacity IRS ground anchors (up to 100 tons), using the Hi'Drill technique.
Instrumentation (piezometers and inclinometers).
Civil engineering (head beam and raft).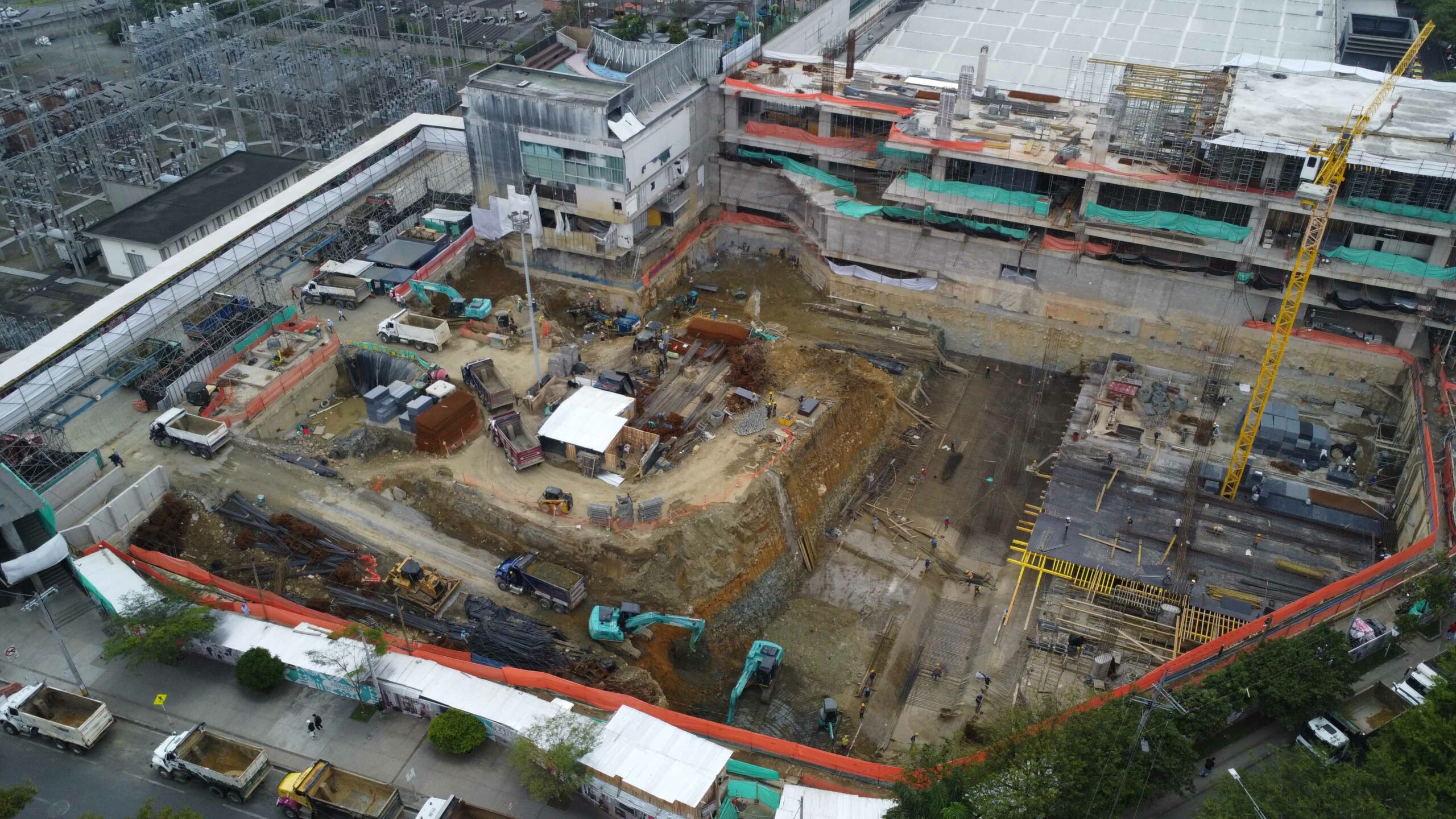 Innovation for quality and safety
During the project, GEO carried out the digitization of all the controls, the continuous progress in 3D and the weekly follow-up by drone, which allowed to identify the possible risks during the execution, and to act in time to mitigate them and to optimize the resources allocated to this project.
Each phase of the work was successfully completed in September 2022, without any accident, thanks to the work done by the 50 employees of the company and its subcontractors.
With this type of project, GEO consolidates its position as a reference in Medellín and to become a reference in the realization of turnkey anchored excavations as a retaining solution to the traditional systems of the region.