City Rail Link in Auckland – A project of excellence in waste recycling
To mark World Recycling Day, we take a closer look at the City Rail Link project in Auckland, New Zealand. As part of this massive railway project, the Link Alliance – in which Soletanche Bachy International New Zealand and March Construction are leading participants – is implementing excellent initiatives to reuse and recycle waste.
The City Rail Link project is a good example of a virtuous infrastructure project being carried out by Soletanche Bachy, since the new railway line is set to reduce car traffic in Auckland and so improve air quality.
But it is also a good example of the Group's commitment to waste recycling. Indeed, minimising waste and maximising its recycling and recovery (destruction, storage and recycling) are one of the pillars of the Environmental Action Plan adopted by Soletanche Bachy in 2020.
The construction sector in Auckland produces around 50% of all waste sent to landfill. While recycling rates are already improving in the construction industry, Link Alliance – in conjunction with the customer City Rail Link Limited (CRLL) – has decided to go even further. Recycling is good, but reusing construction and demolition waste is even better! And the targets have already been far exceeded, as Link Alliance has recycled 97% of its waste (target of 90%) and reused 13.6% (target of at least 0.8%).
How did they do it? Through a combination of small and large initiatives, involving local players. Here is a selection…
Construction waste: Recycling and reuse
Recycling using a concrete crusher
A quantity of 5000m3 was crushed for use in piling platforms, paving work associated with the entry piles and backfilling of the Aotea station tunnels.
Reusing wood in a "sculptural hoarding"
Here is an innovative use of wood salvaged from Link Alliance recycling bins. It has been transformed into a sculptural mural at Mt Eden, depicting the history, people and places of the region around Maungawhau. Hoarding is traditionally used to safely separate the public from construction work, but the City Rail Link has given it a new twist, presenting passers-by with artistic works in the heart of the city. There are now miles of palisades to admire!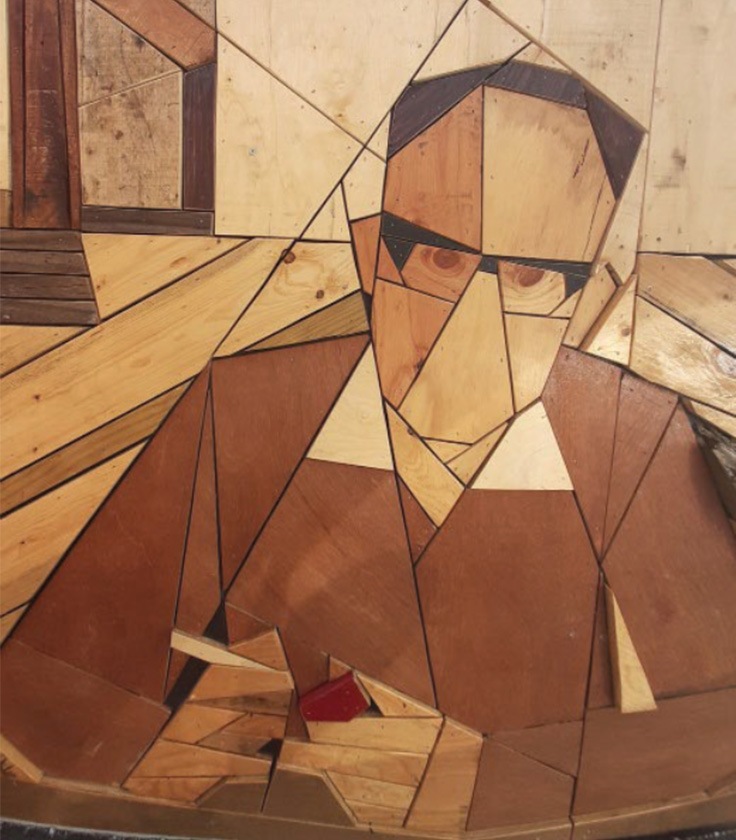 Reuse of basalt
When excavation work began at the Mt Eden site, a large quantity of basalt was discovered. By contacting various organisations across Auckland, the Link Alliance was able to reuse most of it (1,312 tonnes) to build seawalls on New Zealand's Coromandel Peninsula. A smaller proportion was used to build an obstacle course for mountain bikes.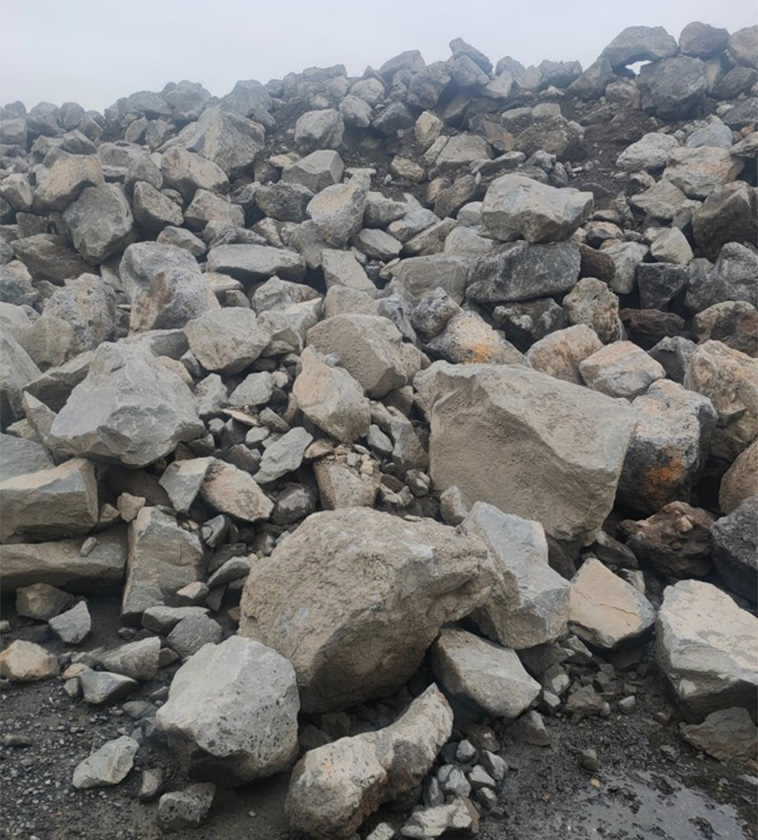 Reuse of steel and concrete – St Albert tunnel works
Temporary steel beams and pre-cast concrete panels from a completed phase of the project were removed during reconstruction of the road above the new tunnels. The Link Alliance saw an opportunity to reuse these materials to create a temporary construction deck above the cut-and-cover tunnel at the Aotea station site, in order to support excavation and construction works. In total, approximately 210 tonnes of materials were reused.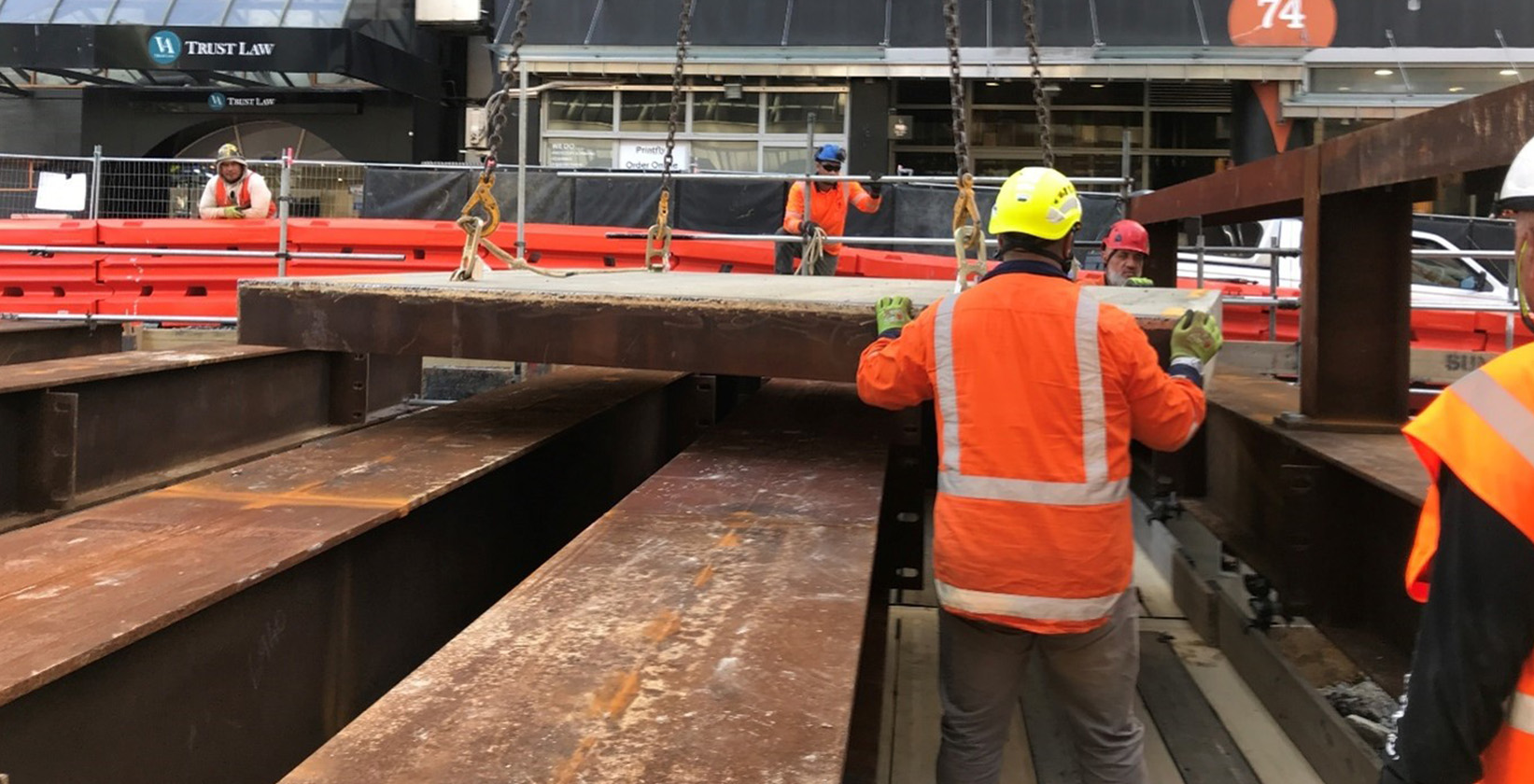 Reuse of polystyrene blocks
During construction of the now completed Britomart station, a large number of polystyrene blocks were used to build a temporary piling platform. One of the opportunities to reuse them was as void formers in the Aotea station, giving a second life to almost 150m3 of material.
City Rail Link in Auckland – review of a rail project unrivalled in New Zealand.
Auckland's City Rail Link project is the largest rail project ever undertaken in New Zealand. It aims to double the number of people able to travel to the city centre in less than 30 minutes. The new train line will connect the existing lines and accommodate 54,000 passengers an hour at peak times. 
The Link Alliance – comprising VINCI Construction Grands Projets (as lead contractor) and Soletanche Bachy International, March Construction and their partner Downer, the customer City Rail Link Ltd, as well as designers Aecom, WSP-Opus and Tonkin & Taylor – was awarded three work packages for the project: C3, C5 and C7. 
These work packages include completion of: 
The design and build of a 3.45km railway line extension, including 3.2km of tunnel, as well as the construction of three new stations. (C3)

 

Two engineering structures (flyovers) and 2km of new track, while traffic continues to operate on the North Auckland Line. (C5)

 

Design, installation and commissioning of the rail systems, including catenaries, signalling and control system for the entire City Rail Link. (C7)