Soletanche Bachy France has been awarded as part of a consortium, for the "Foundation" package for the new Mirabeau Tower in Marseille
The consortium was able to listen and develop its offer to respond in the best way to the needs of the project.
The consortium Soletanche Bachy France (lead company) and InterTravaux wins the "Foundation" package of the Mirabeau Tower in Marseille. It is a high-rise building with 21 floors, standing at 85m, above seven basement levels and offering 170 parking spaces. The project led by CMA-CGM and Bouygues Immobilier, is in particular intended to house the new CMA-CGM head office, whose staff will ultimately occupy half of this new building.
The "Foundation" package includes the diaphragm wall, earthworks, struts, dewatering and decontamination.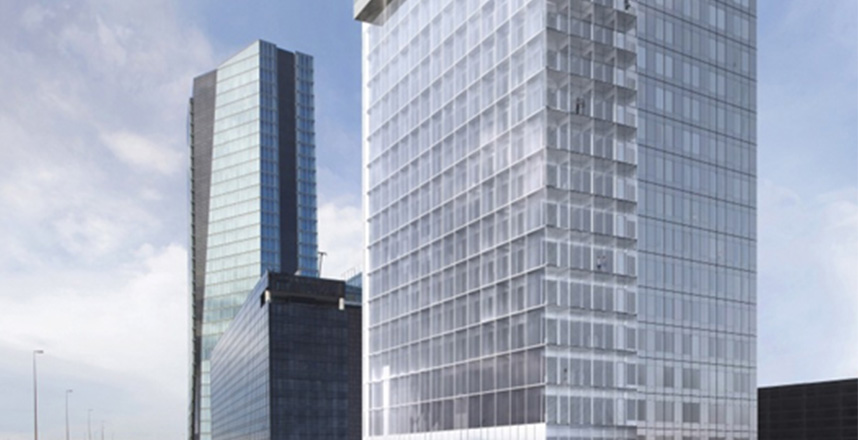 The work to be carried out
The works are to be carried out on a reduced plot of 1,300 sq. m corresponding to the current Mirabeau Tower (nine floors) which is undergoing demolition.
This package involves a 22m excavation protected by a 1m-thick diaphragm wall, anchored 32m deep in Marseille's Lower Oligocene strata.
Construction of the diaphragm wall will begin after demolition of the current tower (excluding slab and piles) and after backfilling up to a height of 2m in order to clear the water table. The diaphragm wall should take three months, in two shifts.
The presence of the adjoining boundaries will require complete instrumentation monitoring, entrusted to Sixense (a company of Soletanche Freysinet).
Once the walls are complete, a critical phase of this package will begin in summer 2020, when teams will need to carry out the following activities:
removing the diaphragm wall construction equipment,
decontamination of water and soil (oil pollution around the site of the former heating plant),
preliminary earthworks and trimming,
capping beam (in the structural work package),
demolition of the old tower's slab,
installation of the dewatering.
This will be followed by earthworks (23,000m3) and the installation in advance of four levels of temporary struts, for delivery of the completed excavation in early November 2020.
The works have a duration of 8.5 months.