Soletanche Bachy France carries out a permanent diaphragm wall with unreinforced concrete for the Grand Paris Express
The 1501P ancillary structure – part of work package T2A of the Grand Paris Express southbound line 15 project – has become a new technical and environmental benchmark for Soletanche Bachy France.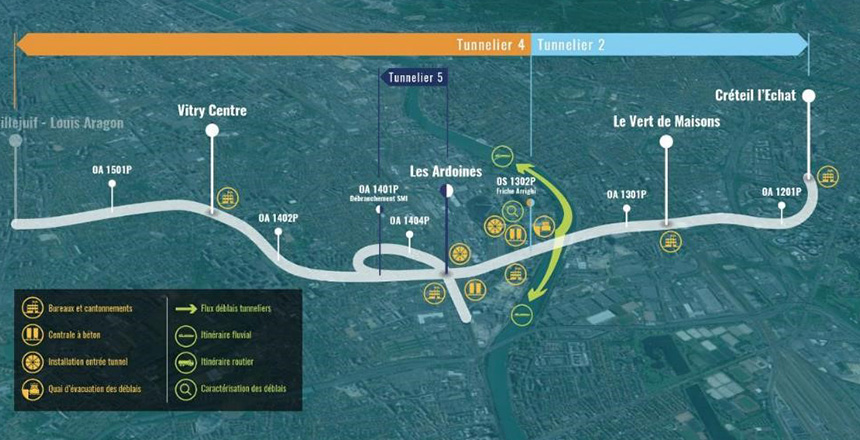 The structure is one of five interstation ancillary structures to be created for the rail project by the Horizon consortium. It will be the only structure, and a permanent one, in this work package to be partially composed of an enclosure formed by an unreinforced diaphragm wall – a first in France.
The structure, comprising 14 panels (seven primary and seven secondary units) was drilled using interlocking joints to replace the CWS joints originally planned at the design stage. This solution reduced the number of teams working on site at the same time, while avoiding the risks of using 65m joints in a cramped environment. The same approach was also adopted for the in-depth study of the use of reinforcements only in diaphragm wall panels, where it was strictly necessary.
Due to the heterogeneous stratigraphy, the diaphragm walls were excavated using multiple methods (hydraulic grab and Hydrofraise®).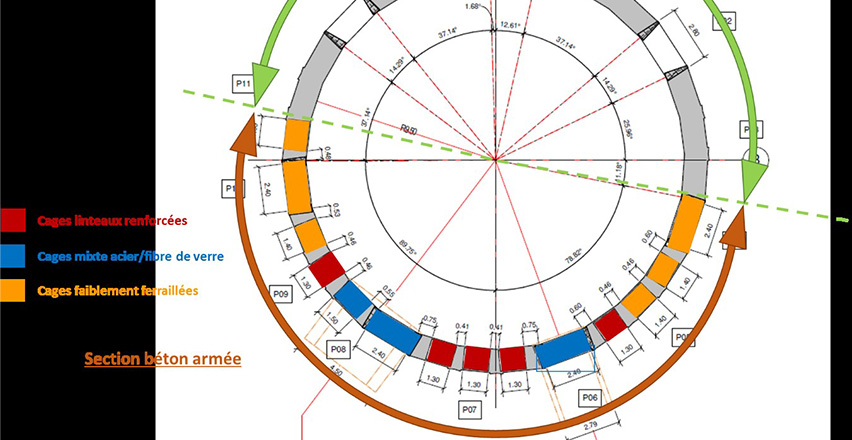 The circular diaphragm wall of ancillary structure 1501P uses annular compression, making the retaining work self-supporting for the entire 57m-high soil excavation.
The horizontal stability of the screen has been studied in the conventional way using 2D soil-structure interaction calculations with subgrade reaction coefficients, treating the diaphragm wall as a stack of concrete rings with cylindrical rigidity and within which arch effects develop.
The subsidiary has already built several temporary structures without reinforcements in the past – the shafts of line 14, the passage beneath RER line C and the test shaft in Saint-Maur – but never a permanent structure.
This project adds to our experience in reducing the use of resources by only allocating what is strictly necessary, in accordance with applicable standards, particularly through the control of deviations at great depth, as well as the quality of the diaphragm wall concretes.
An effective website
In conclusion, ancillary structure 1501P benefits from technical optimisations which have:
Reduced construction costs by saving 115 tonnes of steel in the diaphragm walls and removing the need for a lining wall (292m3 of reinforced concrete) for the internal civil engineering;
Reduced the time spent operating equipment and concreting the diaphragm walls;
Reduced the need for lifting equipment by eliminating half of the wall reinforcement cages as well as the CWS joints;
Reduced the risks of cover faults and therefore of resurfacing on the unreinforced part;
Reduced transportation by eliminating the reinforcement cages.
The next step will therefore be to design and create a circular diaphragm wall enclosure without any reinforcements. Like safety, the environment is an integral part of our overall approach to the design and calculation of underground structures. This approach particularly aims to optimise quantities, because there is no better ultra-low-carbon approach than removing concrete and steel!