Grand Paris Express package T2A – a worksite creating fantastic diversity prospects
The opportunity was too good to miss! As we mark International Women's Day today, 8 March, we wanted to pay tribute to a benchmark project for the Group which has given pride of place to diversity.
The Horizon consortium – comprising Soletanche Bachy France, Bessac, Soletanche Bachy Tunnels and Bouygues Construction – has worked on this large-scale project since 2017.
This flagship infrastructure and transport project has involved around 442 Soletanche Bachy France employees since its launch and up to 193 people at the height of the special works activity in the summer of 2018. To manage these large worksites, Soletanche Bachy entrusted operational management to a supervision team largely made up of women. On average over the last four years of the project, women accounted for 20% of supervisors. This proportion reached as high as 32% at the end of January 2021, i.e. eight women out of 25 supervisors.
Contract Manager, Special Works Manager, Site Manager, Freezing Works Engineer – it is important to note that every station and special structure (the stations at Vitry-sur-Seine, Vert-de-Maisons, Ardoines and Friche Arrighi) were managed by women and the Project Director of the T2A package is also a woman.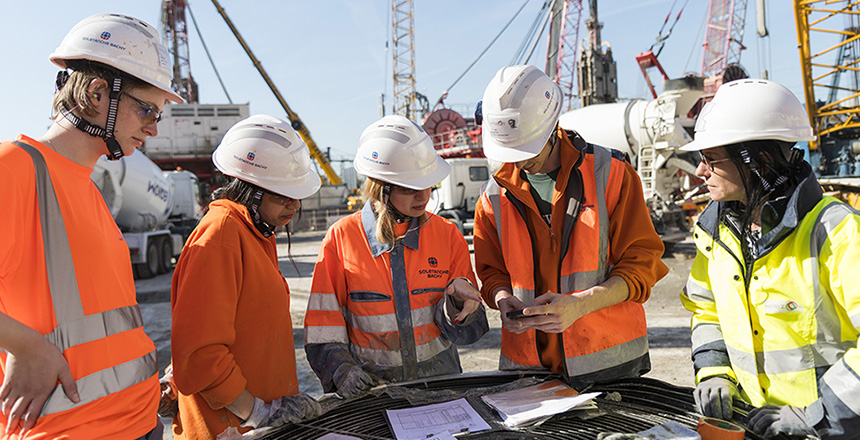 It is important to pay tribute to the involvement of worksite management in promoting mixed teams for large-scale projects. The exchange of varied and contrasting perspectives characteristic of mixed teams was particularly appreciated on this project and helped drive performance.
Diversity is an obvious richness for everyone, let's continue along this path.