Delivery of the first SNCF project completed using the ISU micropile process
As part of a consortium with VINCI Construction Terrassement, Soletanche Bachy France is installing 330 ISU micropiles (single-stage immediate post grouting) for the construction of acoustic screens.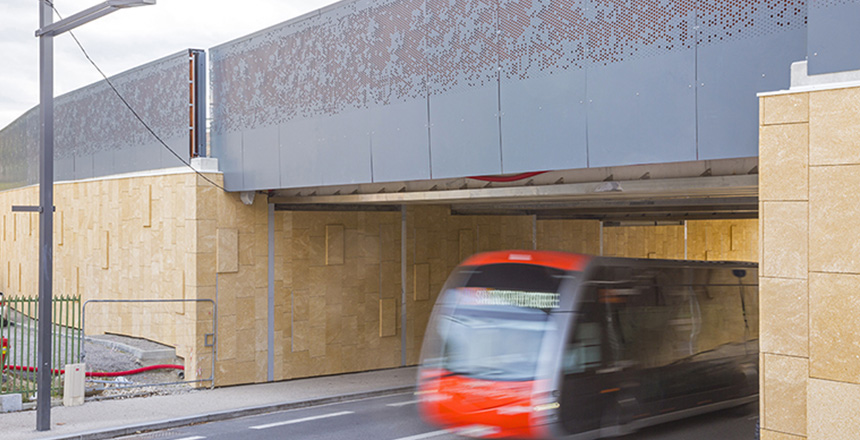 As part of a project to double the SNCF network tracks between Aix-en-Provence and Marseille, visual and acoustic protection needed to be installed to reduce noise pollution caused by trains to neighbouring homes.
In September 2019, the VINCI Construction Terrassement (Altea)/Soletanche Bachy France consortium was appointed on behalf of SNCF to construct two acoustic screens built on 330 micropiles at a depth of 3m. The first screen is located near the train station in the Schuman area of Aix, while the second is in the town of Luynes.
The project was awarded to the consortium partly due to a proposed variant. This involved using the single-stage immediate post grouting method – or ISU (Injection de Serrage Unitaire) – whereby a tube is drilled into the ground just after drilling and installation of the micropile. This tube allows the grout to be injected immediately.
This process, developed and patented by Soletanche Bachy, makes it possible to produce type III quality micropiles without having to use the standard injection process. The proposed variant allowed spacing of the poles to be increased from 3m to 4m while reducing the borehole diameter from 250mm to 200mm – saving our client time and money.
The project was recently delivered after 12 months of work. Congratulations to the teams for this great success and for use of this innovative technique.