Bachy Belgique gets to work on work package 1 of Brussels Metro line 3
Project owner Beliris – a cooperative venture created jointly by the Federal Government of Belgium and the Brussels-Capital Region – has taken the decision to extend line 3 of the Brussels Metro system. The new section will connect the Gare du Nord station with Haren via 7 intermediate stations.
The temporary 'Progrès' consortium of two BAM Contractors subsidiary companies and the Belgian branch of Soletanche Bachy France was awarded work package 1 of the project at the end of 2020.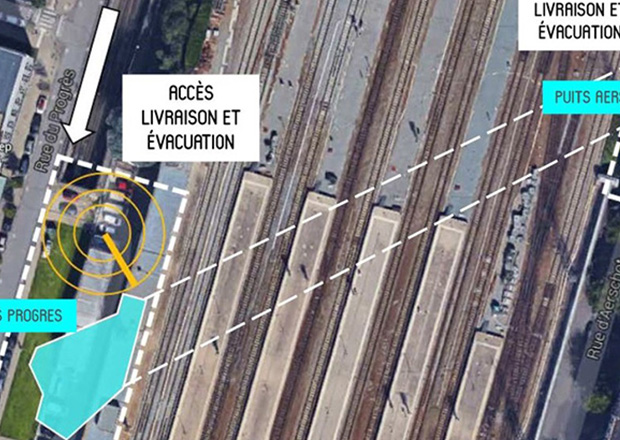 This work package involves a structure beneath the Gare du Nord rail network and two worksite shafts – P5 (on the Rue d'Aerschot side) and P6 (on the Gare du Nord side) – to enable the transit of STIB (Société de Transport Intercommunale de la région de Bruxelles) metro trains.
Shaft P5 will be used for the dismantling and the exit of the tunnel boring machine to be used for the future work package 3, and will remain closed by a temporary slab for the period between its construction and the arrival of the tunnel boring machine
Shaft P6 will provide the interface between the structure beneath the Gare du Nord rail network and the existing Gare du Nord metro station opening
The structure beneath the rail network will be used as a post-arrival turnaround for metro trains during the construction phase, and will handle Metro traffic to Haren in the final phase of the project
Both shafts will be built using diaphragm wall of between 1 and 1.2 metres thickness, and will be up to 30 metres deep.
The tunnel beneath the rail tracks is approximately 150 metres, and varies in width from 8.66 metres in its current section to 23.1 metres.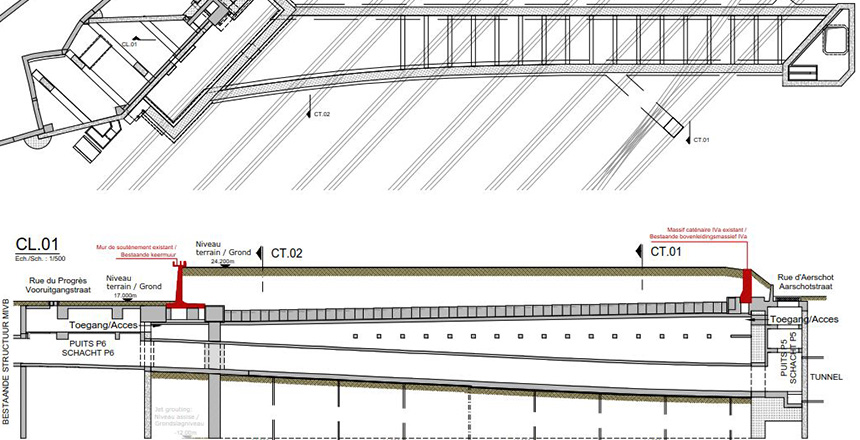 Three-metre diameter tunnels will be bored as lined excavations beneath the station rail tracks. The finished tunnels will be used to drill three sets of jet grouting columns tube-reinforced to a depth of 26 metres. The walls of these secant columns will provide temporary support for the excavation and construction of the metro tunnel beneath the rail tracks of the Gare du Nord station.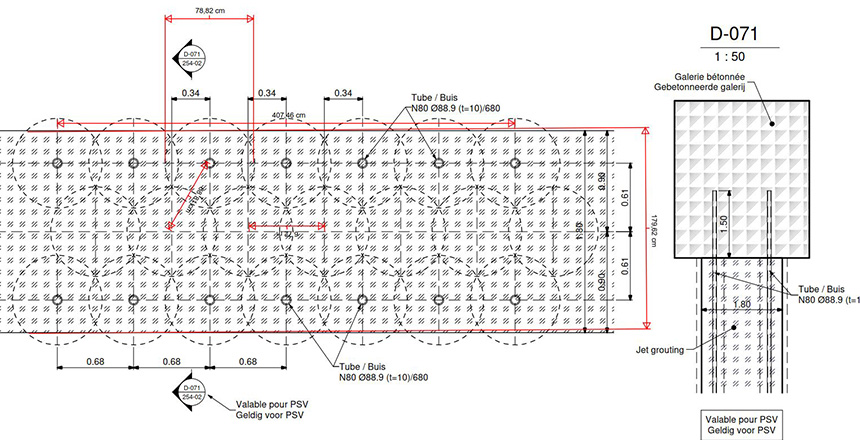 A series of jet grouting plugs will also be created between the new and the existing structures, as well as a slab to ensure waterproofing and strutting Shaft P5. The works should start on March 2021 and be finished at the beginning of 2024.